Substitutions for Raw Ceramic Materials
by Edouard Bastarache
With the advent and popularization of glaze calculation programs, you might think that a book on substitution of raw materials has become redundant, however this is far from being the case.
Québecan Edouard Bastarache's book is directed at potters not familiar with glaze chemistry and those unfamiliar with glaze software - still a substantial proportion of the potting community, as for some, learning a glaze program would be a daunting task. Bastarache's book fills this important gap, giving clear and easy directions on substituting raw ceramic materials. The research, which forms the basis of this book, should even be of use to potters familiar with glaze calculation programs.
The book is divided into the following chapters with substitutions for:
Spodumene
Petalite
Lepidolite
Potash Feldspar
Soda Feldspar
Kona F-4 spar
G200

Volcanic Ash
Dolomite
Wollastonite
Pryophyllite
Talc
Cornish Stone
Plastic Vitrox
As it turns out, this book is not only a source of materials substitutions, but also of stoneware glaze recipes. Using a limited number of recipes, the author substitutes the above ingredients (where appropriate), chapter by chapter, offering new formulas for consideration. Glazes used in the research include
Clear Satin Matt
Clear Gloss (various)
White Gloss
Leach White
Milky White
Off-White
Blue Matt
Blue Gloss
Copper Red
Lindo Black
Kaki
Caramel

Base Yellow
Russet
Tan Gloss
Tan Matt
Green Matt
Green Gloss
B.G. Vert (Green)
Oribe Green
Turquoise
Seacrest
Celadon
Tenmoku
Multiplying the above recipes with the substitutions suggested, we arrive at hundreds of variations suitable for further experimentation and testing with local materials. However, this publication is not a glaze book. It's purpose rather, is to be a guide in substituting raw materials. There may be various reasons for wanting to do this - a material may not give the result you want (e.g. Lepidolite may cause blistering), or a material may not be available in your country or region.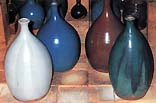 While Bastarache has used mainly stoneware glazes in the cone 8-10 range (a few mid-fire glazes are also included), the suggested substitutions should also work for glazes in other temperature ranges, or for clay recipes for that matter.
Let's look at an example, substitution for Kona F-4 Feldspar in this Tenmoku glaze (cone 8-10 reduction):
Original Recipe

Whiting..........10
Kaolin..............5
Flint.............. 25
Red Iron Ox....10
Kona F-4........60

Substitution

Whiting.....................10
Kaolin.........................5
Flint..........................25
Red Iron Ox...............10
Custer Feldspar.........57.78
Whiting.......................2.28
Alumina......................2.04
The substitution arrived at is 93.3% Custer Feldspar + 3.8% Whiting + 3.34% Alumina for 100% Kona F-4.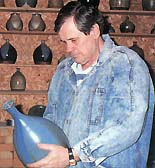 Edouard Bastarache lives in Québec, Canada, and has a colorful history. He studied surgery, internal medicine and neuroendecrine physiology and was a medical researcher and consultant in Occupational & Environmental Medicine between 1971 and 1983. Since 1983 he has been a full-time consultant in occupational and environmental medicine. At the same time as his medical studies, he studied ceramics under Julien Cloutier at La Boutique d'Argile (The Clay Shop) and later also taught at the same school. Bastarache now lives in the Sorel-Tracy region of Québec, near the St. Lawrence river. He uses waste materials from steel plants located in the area to color many of his glazes and clays. He fires most of his work to cone 9 1/2 in reduction in a 60 cubic foot downdraft gas kiln.
Substitutions for Raw Ceramic Materials is available in 7 languages: French, English, German, Italian, Spanish, Portuguese (Portugal & Brazil), and Esperanto from the following distributors:
Imagine Céramique (France)
Richoux S.A. (Paris, France)
Bracker's Good Earth Clays Inc (USA)
Great Lakes Clay & Supply (USA)
Laguna Clay (USA)
Minnesota Clay (USA)
Potters Shop (USA)
Hanusch & Ecker (Germany)
Diaz de Santos (Spain)
J.L.Vincentiz S.L. (Spain)
Revista CERÁMICA (Spain)
PSH-BRASIL, Sao Paulo (Brasil)
Amazon online booksellers
More Book Reviews
More Articles