The Lowe Features A Ceramic Continuum: Fifty Years Of The Archie Bray Influence
Press Release
Coral Gables, FL – A Ceramic Continuum: Fifty Years of the Archie Bray Influence will be on exhibition at the Lowe Art Museum, University of Miami, from September 20 through November 9, 2003. Also on view is Connected, a site-specific installation by former Archie Bray fellow, Rebecca Hutchinson.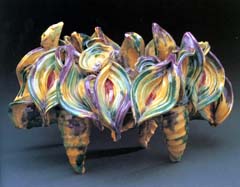 A Ceramic Continuum features 85 ceramic works drawn from the permanent collection of more than 800 works of the Archie Bray Foundation for Ceramic Arts, and celebrates the Foundation's 50th anniversary in 2001. The Archie Bray Foundation, located in Helena, Montana is a public non-profit educational institution dedicated to the enrichment of contemporary ceramic arts. The primary mission of the Foundation is its arts residency program, which allows students and professionals to create in private studios while contributing to one another's development through the sharing of ideas and techniques.
Situated on the grounds of a former brick manufacturing plant owned by the late Archie Bray, the Foundation has attracted clay artists world-wide who have flourished in an atmosphere that encourages experimentation and growth. The Foundation's alumni now number over 300 artists. They include studio potters, faculty who guide ceramic art programs at distinguished colleges and universities, and artists whose work are exhibited and collected by museums nationwide.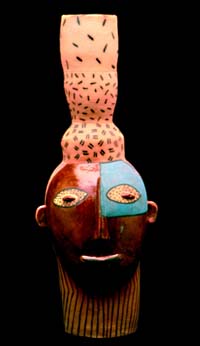 This residency program has been the breeding grounds for many emerging artists who have gone on to establish international careers in the field of contemporary ceramic art. These include John and Andrea Gill, Wayne Higby, Clary Illian, Warren McKenzie, Richard Notkin, and Akio Takamori. All have made important contributions in the field and had considerable influence in contemporary ceramics.
The ceramics in the exhibition include utilitarian pottery, sculptural vessels, and large-scale architectural works by past resident artists, as well as historical pieces and works from visiting artists, including the pottery featured in this exhibition by world-renowned craftsmen Bernard Leach from England and Shoji Hamada from Japan. The selection also includes significant work from all of the past resident directors of the Foundation: Rudy Autio, David Cornell, Ken Ferguson, Carol Roorbach, David Shaner, Kurt Weiser, Peter Voulkos, as well as work from Josh DeWeese, the current resident director. The enduring visual legacy is unparalleled in today's world of art. The exhibition is organized by the Holter Museum of Art, Helena, Montana and is part of a 16 city, four-year national tour, developed by Smith Kramer Fine Art Services.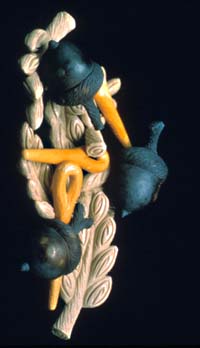 To complement A Ceramic Continuum: Fifty Years of the Archie Bray Influence, the Lowe has commissioned a site-specific installation by Rebecca Hutchinson. The former Archie Bray fellow will transform the Lowe's Friends of Art Gallery with one of her signature works which makes use of organic materials and addresses interest in the totality of ecosystem function and diverse components within ecosystems that provide collaborative, parasitic, and symbiotic relationships.
Hutchinson's installations are comprised of multiple site forms – components are either hand built, press molded, or woven. All woven components use site-collected fibrous materials combined with clay and are woven on traditional warp structures that provide diversity in construction, yet guide the directional flow of the piece. Large scale and site specific works are always multi-dimensional. Hutchinson works within the ceramics tradition of vessel and material, but also moves into issues of collaboration, presentation, time, and environmental concerns. Each unique installation concerns multiple forms and their interaction to one another in terms of placement and space.
Lowe Art Museum exhibitions and programs are sponsored in part by the State of Florida, Division of Cultural Affairs and the Florida Arts Council; the Institute for Museum and Library Services; the Miami-Dade County Cultural Affairs Council and Board of County Commissioners; and the members of the Lowe Art Museum.
The University of Miami is the largest private research institution in the southeastern United States. The University's mission is to provide quality education, attract and retain outstanding students, support the faculty and their research, and build an endowment for University initiatives.