Kurt Weiser
Contemporary American Studio Potter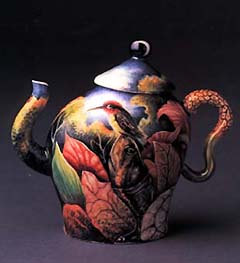 Kurt Weiser was born in 1950 in Lansing Michigan. He studied ceramics under Ken Fergusen at the Kansas City Art Institute from 1972-76 and then completed an MFA at the University of Michigan.
In 1988, after a stint as Director of the Archie Bray Foundation in Helena, MT, Weiser started teaching ceramics at Arizona State University, where he has held the position of Regents' Professor of Art since August 2000.
Weiser began his career making sculptural porcelain vessels, but soon turned his attention to painting on porcelain. Weiser's allegorical scenes, painted in a natural realism style on his distinctive vessel forms have since then become easily recognizable works of a porcelain painting master.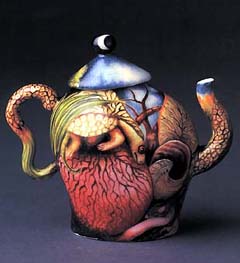 His work has been acquired by many institutions around the world, including the Victoria and Albert Museum in London, the Smithsonian Institution's National Museum of American Art, the National Museum of History in Taiwan, the Museum of Contemporary Ceramic Art and Institute of Ceramics, Shigaraki, Japan, the Los Angeles County Art Museum, the Carnegie Mellon University and others.
Kurt Weiser is represented by Garth Clark Gallery, NY.
More Articles
More Artists of the Week