Raku Firing on the Web
by Helen Bates
Article originally published by Pottery Making Illustrated, a publication of The American Ceramic Society. Please also visit Helen Bates's column PMI Online.

One of the most popular activities for ceramists of all levels is raku firing. This ancient Japanese technique has been adapted to uses quite different from its original purpose as a quick method for firing disposable tea bowls for use during the Japanese tea ceremony. There are plenty of sites on the 'Net that have wonderful raku pieces, but for now, we'll just point out the sites with kiln plans or kiln firings.
Tony Ferguson (Duluth, MN, USA)
http://www.aquariusartgallery.com/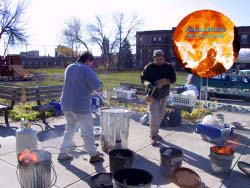 Tony offers two pages of building directions for portable updraft raku kilns. Each page has 15-20 thumbnail photos you can enlarge to excellent full-size images. The first page contains the directions for the "Portable Side Hole Updraft Raku Kiln"; the second has the pictures and directions for "Fergy's Portable Outdoor Fire Place Updraft Raku Kiln." This is an extensive site with several potters represented. The various gallery pages have links to images that can be "swapped" for one another on the page. This feature is best viewed in Internet Explorer, but can be viewed in older Netscape browsers but not at this time in the newest browser versions from Netscape. To navigate to the Raku pages from the home page, click on the "Aquarius Art Gallery" image; click on the bowl image above the name "Tony Ferguson," and click on the menu item "Raku Kilns." Scroll down this page and click on the link for the second kiln page.
Concordia College (Moorhead, MN, USA)
http://www.cord.edu/dept/art/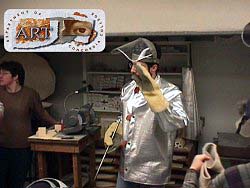 Assistant Professor Ross Hilgers appears to have a well-equipped and tightly-run ceramics facility. You may view a series of images of students wearing full safety clothing and helmets for a school raku firing. While viewing the page, scroll all the way down to see a bowl decorated with a lovely Soldner halo effect. From the art department home page, scroll down to click on "Studio Areas," "Ceramics," and "Sequence of photos of a raku firing." While visiting the site, don't neglect the rest of the Ceramics area links.
Glen Echo Park (National Parks Service) (Glen Echo, MD, USA)
http://www.glenechopark.org/glec/dept/cera/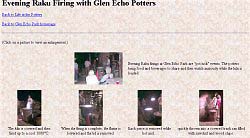 Jeff Kirk is the director and full-time resident potter at Glen Echo Pottery. An unusual feature here is the evening raku firings held by the Glen Echo Potters. Click on the link "Evening Raku Firing" to see the heat shining from the pots as they are removed from the kiln. There's another wonderful halo pot on view here too. Also, surf around the site and look at photos of Jeff throwing and decorating a low planter form, and some examples of work by other potters in the group.
Ken Turner
http://www.kenturnerpottery.com/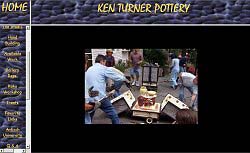 Raku Workshop Pictures
Ken Turner built these fiber raku kilns based on the original clamshell design by John Harris and Mike Blackwell. His photos show how the upper parts of the kilns fold down on either side to aid in loading and unloading, then fold together vertically for firing. The kilns are also on large casters for ease of transport. To enter the site, click on the pot with the gold lid, then scroll down the left-hand menu for the link to "Raku firing." From there, click on the small photo at the top of the page or scroll down the page and click on "Raku Workshop Photos." Again, while you are at the site you'll be tempted to check out Ken's many wonderful pieces, both handbuilt and wheel thrown, with sophisticated combinations of "lava" glazes and gold and silver lusters.
Southeast Community College Appalachian Pottery Program (Cumberland, KY, USA)
http://www.secc.kctcs.net/Pottery/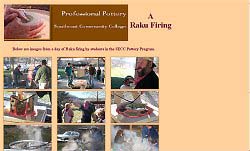 Director of the SECC Professional Craft Pottery program, Associate Professor of Art Joe Scopa has provided a fine set of images of a raku firing. The thumbnail images enlarge to excellent larger pictures, including another good example of the desirable "cherry red" for judging whether the pots are ready to be removed from the kiln. The kiln in use here is once again a counterbalanced model. From the Pottery Program home page click "Image Gallery and Video Links," then "A Raku Firing Day." The work of the students at this college is sold at the annual Kentucky Guild Fair in Berea, KY. Browse around to view a complete syllabus, more photos of student work, interviews and videos.
Eddie Kent (Pots & Things) (High Wycombe, Bucks, England, UK)
http://www.pots-n-things.co.uk/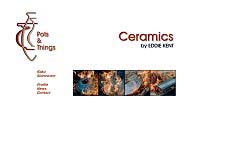 Innovative British raku potter Eddie Kent gives detailed instructions with clear, medium-sized photos for the making and firing of his "Ian Gregory" style flat-pack raku fiber kiln. Eddie makes unique extruded forms as well as raw-glazed hand-built stoneware pots. For the raku page, click "Raku," click "Making and Firing of my Raku Kiln," and scroll down to view all the images.
---
Additional Sites

BROWSING TIP
A helpful site: AltavistaTM"Babel Fish" online translation utility: http://babel.altavista.com/ Using Babel Fish: To translate an entire site "on the fly," "copy and paste" the entire url (web address) into the input box under the words: "Translate a Web Page." (If you already have the "http://" part of the address in the text you have copied, make sure you overwrite the characters already in the box.) Now choose your "From" language and your "To" language from the "drop-down" menu by clicking on the downward pointing arrow in the input box to the left of the "Translate" button. Now, click the "Translate" button and away you go. [Editor's note: translations are sometimes way off the mark and cause for great hilarity!]
Steve Branfman (Needham, MA, USA)
Raku FAQS #1 and #2 for the newsgroup "rec.crafts.pottery," are archived at "Google Groups"
http://groups.google.com/groups?q=author:sbranfpots

Steve glazing pots during Raku Ho'olaule'a 2000 in Hawaii.
http://www.hawaiicraftsmen.org/media_clay.htm

Tom Buck (Hamilton, ON, Canada)
http://www.digitalfire.ab.ca/cermat/education/113.php
Tom's article on why some metallic Raku glazes fade to brown, and the possible solutions. (Courtesy Digitalfire). Scroll down to "Low Fire" then click on "First You See It Then You Don't: Raku Glaze Stability". Alternatively type "Raku in the "Search" input box and click on the hyperlinked word "Search."
Note: Don't try pressing "Enter" instead of clicking "Search" as using the keyboard doesn't work here.

Robert Carlson (Emmitsburg, MD, USA)
http://www.clayarts.com/
Robert has developed the "Saltku" kiln, for fast-fired salt glazed pottery using a raku body. Workshop page, mainly photos, with some explanatory text, shows pieces fired to cone 9 in about 3-1/2 hours and salted for about 40 minutes then cooled for about 6-8 hours before "downstacking" the kiln. From the home page click "Raku," wait for the page to load, click "Resume," click "Back to Robert's Work," click "Workshop announcement--> Click here to see new Saltku works."

Ursula Goebels (Durham, North Carolina)
http://www.art.net/~ursula/rakupt.htm
Ms. Goebels makes large raku spheres that she removes by hand from her kiln, wearing protective gear. The page has several good photos show Ursula in her heat-resistant outfit removing a piece from the kiln. She uses a combination fire brick and fiber kiln.

Genya Sonobe - "Pottery Tech" (Seto, Japan)
http://pottery-tech.com/en/en/e-index.html
"Pottery Tech" is an online publication intended to inform readers about contemporary and historical pottery of Japan. The original 'fujisan' made by Hon-ami Koetsu is categorized as a 'Shiro Raku', or white raku tea bowl. Japanese potter Genya Sonobe gives instructions for his interpretation of Koetsu's bowl, with a description and images of glazing and firing the bowl, including when to remove it from the kiln. There is also a link to an image of the original "White Raku" tea bowl. From the English home page, click the highlighted portion of "Workshop-Raku 'Koetu Utsushi Fujisan' Instructor Genya Sonobe."

Irene Poulton (Perth, Western Australia)
http://members.iinet.net.au/~shaper/recipes.html
Irene provides Raku glaze recipes and describes using India ink to darken the crackle lines

Atelier Raku (Valbonne, France)
http://www.ceramique.com/cerammag/raku/index.html
A three-page report with text and photos in the French ceramic arts online magazine "Imagine Céramique" by Blandine and Marc-Antoine Mouilleron, describing a raku firing workshop. All participants are wearing protective cartridge-type masks. The kiln is a very interesting square metal and fiber structure with a removable body and a lid that can be hinged up, and includes a sizeable chimney. The site is available in French only, but you can use the AltavistaTM Babel Fish translator to translate the entire site from the original French into English (or German.)

Salisbury University - Fulton School of Liberal Arts (Salisbury, MD, USA)
http://www.salisbury.edu/Schools/Fulton/ArtDept/
A car kiln firing is used for raku in this ceramics facility. The bottom rolls out so pieces can be removed easily while they are hot. From the home page click on "Art," "Enter Art Department." When loaded, click "Concentrations," "Ceramics," and from the "Ceramics" "drop-down" menu click "Raku." By the way, you need an up-to-date browser and "Flash 6" for the ceramic page to load properly from the art department page. Otherwise, use the longer url below:
http://www.salisbury.edu/Schools/Fulton/ArtDept/3d3/ceramics/Raku/raku.htm

Centre de Céramique de Sainte-Foy (Sainte-Foy, Quebec)
http://www.centredeceramique.qc.ca/raku/galeries.html
Raku firing page shows the use of galvanized laundry tubs with sheet metal covers as reduction containers for raku. This French only site has been featured before in my article on pottery guilds. Again, you can get a machine translation using Babel Fish (see "Atelier Raku" above.)

Ward Burner Systems (Dandridge, Tennessee)
http://wardburner.com/raku_kilns.cfm
Ward has a catalogue with several raku burners and kilns. The company also supplies the specialized items needed to build your own raku kiln. (You buy the rest locally.) Scroll down.

Sue and Terrance Young (Jay, NY, USA)
http://www.youngsgallery.com/Tours/Raku/raku.htm
Photos and text of the basic raku process using an old electric kiln converted to gas. The temperature reached is approximately 1600°F. The Youngs quench their pots in a pail of water after smoking them in a covered metal barrel full of combustible materials like newspaper or sawdust. There are good shots of the cherry red glow that indicates that the kiln is getting close to the proper temperature for glaze maturity in a typical raku firing.


Helen Bates lives in Ontario, Canada. A connoisseur of the ceramic arts and an amateur potter, one of her greatest pleasures is surfing the 'Net to track down and check out the work of fine potters and ceramic sculptors. Her search results are a prime example of how the Internet has made it possible to explore aspects of the visual world well beyond her local region. Although she can't promise to answer all e-mails, you are welcome to send suggestions for new and interesting clay-related web sites to her at nelbanell@yahoo.ca. Expect to see more interesting articles by Helen on Ceramics Today!
Related links:
PMI Online
Pottery Making Illustrated
The American Ceramic Society