Clay Modern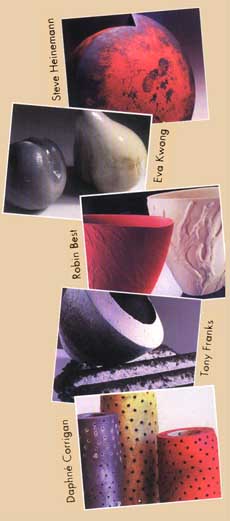 Clay Modern ceramics festival will take place in May 2004 in Gulgong, a small rural community in New South Wales, Australia, northwest of Sydney. The international ceramic event is hosted by Australian ceramics magazine editor Janet Mansfield, (Ceramics, Art and Perception, Ceramics Technical).

This will be the 6th event in the series of Gulgong ceramic extravaganzas. The program is being planned around sustainability in ceramics, keeping up-to-date in our preferred vocation: fire & kilns, form & aesthetics and clay & materials are all a part of this, and always with a view to promoting ceramics as an art form.

Each Gulgong event seems to generate its own momentum with participants coming from around the world to meet each other and take advantage of the friendly and productive atmosphere. There will be exhibitions, special happenings, a feast and fun. And there are some special guests to lead the lectures, demonstrations, discussions and exhibitions. They include:
Maren Kloppmann, Germany/USA
Eva Kwong, USA
Robin Best, Australia
Neville Assad, Australia
Tony Franks, Scotland
Peter Lange, New Zealand
Li Jiansheng, China
Cameron Williams, Australia
Steven Heinemann, Canada
Daphné Corregan, France
Michael Keighery, Australia
Jane Jermyn, Ireland
The conference will run from 2 - 8 May 2004. The cost per person is AUS$420. A student rate is available for AUS$300. If a teacher brings a minimum of six students, then the teacher will also be charged at the student rate. For accommodation contact the Gulgong Tourist Office on:
+61-2-6374 1202. A variety of motel, hotel, bed & breakfast, dormitory and camping is available.
For more info, contact
Janet Mansfield c/o Ceramic Art
35 William Street Paddington
NSW 2021 Australia
Tel: +61-2-9361 5286
Fax: +61-2-9361 5402
Email: ceramics@ceramicart.com.au