Astrid Gerhartz
Contemporary German Porcelain Artist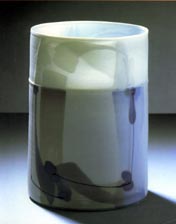 Astrid Gerhartz has been making a name for herself working in fine porcelain, often decorated with water soluble metal salts. Born 1962 in Aachen, Germany, Astrid studied ceramics in the reknown German Institute of Ceramics at Höhr-Grenzhausen and has been teaching at Rheinbach College since 1991. She lives in Bonn, (capital of West Germany before unification), where she also has a studio workshop open to visitors Thursdays to Saturdays.
Her work displays a sensitive aesthetic, brought to the fore subtley by her choice of material, a wondefuly pristine white porcelain. While early work concentrated on the use of the Watercolors on porcelain technique, once devised by Norwegian ceramist Arne Ase, her more recent work has been influenced more by expression through form. In particular Gerhartz has been exploring with functional wares inspired by Japanese pottery and cuisine.
Astrid can be contacted via her email or by mail form.