Owen Rye
Australian Anagama Studio Potter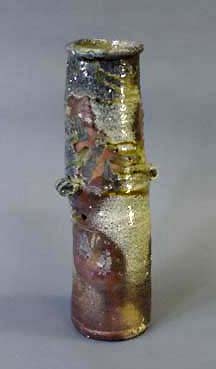 Owen Rye has been studying, practicing, teaching and writing about ceramic art for 40 years. His contributions to the field are well documented: the list of publications, conference presentations and exhibitions spans seven pages in his biography. He is a well-known leader in the woodfire movement in Australia and overseas, and his interest in all things involving clay and fire has made him a valued teacher across the broad spectrum of ceramics. He will retire from Melbourne's Monash University at the end of 2003 to focus on his studio work at Boolarra South in, Victoria. It seems an appropriate stage for some reconnaissance, exploring the nuances of his new anagama kiln, and seeking new ideas and directions. His 2003 exhibition at the Ceramic Art Gallery in Sydney confirms he is doing just that.
In Western countries like Australia, the cultural baggage that comes with anagama firing and kilns can prove overwhelming and aesthetically limiting, leading to work that seems out of kilter with both its Japanese birthplace and adopted homeland. Rye's work, in contrast, is identifiably Australian and uniquely his own. It has evolved in Australia, through his trial-and-error approach to learning the process. He never trained in Japan and cites no Japanese potter or style responsible for his development. He values the friendship of New Zealand/Australian woodfirer Chester Nealie, and acknowledges the influence of Alan Peascod's concepts of multi-layered surfaces. Rye also shares with Peascod an interest in Middle Eastern ceramics.

His forms are robust and forthright, yet with a softness and subtlety that suits the firing process as well as his aesthetic. Surfaces don't just sit well on his pots; they manipulate the forms through effects of fire, accumulated glaze and ash, and post-firing treatment such as sandblasting. Many reviewers have focused on the imagery of these complex surfaces. Says Rye: "The best forms derive from a mixture of intent and accident. I look for qualities of form which proclaim the fluidity of clay, the softness derived from a somewhat erratic movement, slowed down and frozen".