Johnny Rolf and Jan De Rooden
Dutch ceramists.

Dutch ceramist Johnny Rolf makes figurative and abstract sculpture, masks and sculptural vessels. Rolf met her future partner potter Jan de Rooden in 1956, but trained herself. The couple established a studio in Amsterdam in 1958. Rolf also draws and paints. Her awards include the 'Contour Prize Porceleyne Fles' in 1964, a Minister's Prize in Faenza, Italy, in 1966, and several Dutch Government grants.
Her residencies include Gustavsberg (Sweden) in 1966, University of Davis, California, 1969, Sangre de Cristo Arts Center, Pueblo, Colorado, USA in 1975 and Golden Bridge Pottery, Pondicherry, India in 1985 and 1986.
Jan de Rooden is a self-taught Dutch studio potter making slab-built stoneware sculptural vessels with splashed glazes or geometric designs. Since 1958 de Rooden and Rolf have their studio's under the same roof. His residencies include Gustavsberg (Sweden) in 1966, Sangre de Cristo Arts Center, Pueblo, Colorado, USA in 1975. He taught at the Haystack Mountain School of Crafts, Maine USA in 1975. At his request he helped Ray Meeker of the Golden Bridge Pottery in Pondicherry, India, start the Fired Mudbrick House Project in 1985 and 1986. His grants include a British Council Bursary in 1962, Dutch Ministry of Culture Travel Grants in 1962, 1968 and 1973, a Studio Grant in 1980, and a Prince Bernhard Foundation subsidy for a monograph in 1991.Jan de Rooden cites the Dutch landscape as one of his major sources of inspiration.
Johnny Rolf and Jan de Rooden are passionate travellers. Lecture tours brought them to Universities and Art Academies in America, England, Japan, Korea, Indonesia and India. "Giving lectures and workshops are a wonderful sharing way of teaching" de Rooden says. "Without them, my potters life would have been indeed only half as nice!"
Statement
When the two of us met in the autumn of 1956 and discovered that we both wanted to become potters, we could not have the remotest idea, that once our studio would have a window to the world.
In a tiny no-daylight basement room we installed a kickwheel and a small electric kiln, brought in some clay and glaze materials and there we stood in our first workshop. It held just enough space for one at a time to work with clay, but offered ample room for the other person to encourage. From the start we welcomed what came out of each other's hands. Onto what an inspiring ground we had stumbled, we understood only later.
While our hands became surer, our studio grew, our craft became art, and our pots became ceramics. Along with that each could develop particular talents. After Johnny bought paper and the required materials, first drawings and monotypes then etchings and gouaches began to populate her studio in periods. Jan became good at composing and preparing clay bodies, at adapting kilns, at developing special firing methods and at making contact with people.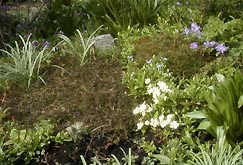 Since we decided to go the path of our lives together, we often made long journeys and at times we worked abroad. In the countryside we built a second studio with a salt kiln and enjoyed the vegetables grown on our land. But Amsterdam always remained our base. For many years our studios were on the canal of the Kloveniersburgwal in the center of the old city. Alas, that in 1960 calm island became chaotic. Now you find us in a quiet coach house on a broad green street bordering Amsterdam's center. A small garden adds colour to many a working day, and, so we hope, to our work as well.
View more work on their website http://www.johnnyrolfjanderooden.nl.