Gene Pearson
Jamaican sculptor.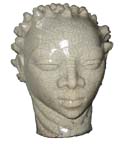 Jamaican ceramist Gene Pearson graduated from the Jamaica School of Art (now the Edna Manley School for the Visual Arts) in 1965. He has taught at the Jamaica School of Art and exhibited widely in Jamaica and overseas including in Britain at the Victoria and Albert Museum and in the USA at the University of California, Berkeley.
Pearson works at his studio in Jamaica as well as at the Potter's Studio in Berkely, California. His unglazed earthenware heads and vessels with faces in carved relief are reminiscent of Nubian art. Some pieces are glazed with a white crackle glaze. More recently, he has also worked in bronze.
His work is presented in films such as "Trapper John M.D.", publications and leading corporate and private collections internationally including the private collections of Celebrities such as Mr. Stevie Wonder, Musician; Ms. Diahann Carrol, American Actress of "Dynasty"; Mr. Arnold Schwarzenegger, Governor of California; Ms. Roxy Roker of "The Jeffersons"; Ms. Alice Walker, Author of the book and movie, "The Color Purple"; Ms. Madge Sinclair of "Trapper John M.D."; Ms. Tyne Daley of "Cagney & Lacey" and others.
His work also appeared on the Jamaican $1.40 stamp in 1993.
Visit Gene Prearson's website: http://www.genepearsonsculpture.com.
Images © Copyright 2004 Gene Pearson Sculpture.