Linda Gunn-Russell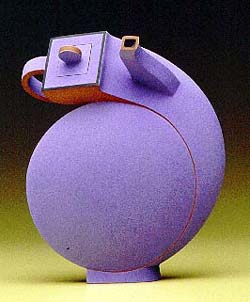 Linda Gunn-Russell is a British ceramist. She trained at the Camberwell School of Art from 1971 to 1975. Since then she has had various studios around London.
She is well-known for her colorful, hand-built sculptural vessels, which follow on from the forms of James Towers - working in a flattened perspective trompe-l'oeil style akin to that of Elizabeth Fritsch. Accustomed pot shapes are flattend and distorted, challenging our traditional views of shape and perspective.
Amongst her influences she counts her teachers Glenys Barton, Ian Godfrey, Janice Tschalenko and others.
More Articles
More Artists of the Week