David Furman
American ceramist.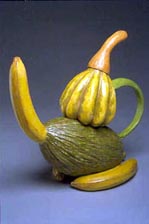 American ceramist and teacher David Furman earned a BA at the University of Oregon in 1969 and an MFA at the University of Washington in 1972. He has taught at Pitzer College where he currently holds the Peter and Gloria Gold endowed chair, and Claremont Graduate University, both in Claremont, California, since 1973. He was an NCECA director-at-large from 1986–87 and secretary treasurer in 1989.
Furman has won numerous awards, including NEA Fellowships in 1975, 1986 and 1996 and Fulbright Senior Artist Fellowships in 1979 (Peru), 1990 (Costa Rica) and 2000 (Peru) and in 2005 won a Silver Medal at the 3rd World Ceramic Biennale in Korea. His 2000 grant enabled him to work at the National School of Fine Art, and with marginalized middle school children in Lima, Peru, making community ceramic tile mural projects.

Furman is known for his whimsical porcelain trompe l'oeil stacked fruit and vegetable tea pots, which reference pre-Colombian and Peruvian Moche erotic vessels. Other realistically rendered objects ("drop dead realism") include cups of coffee, pencil cans, artists brushes and palettes, and trompe l'oeil ceramic drawing, bulletin and chalk boards. His recent figurative work departs from the super-real and focuses on the narrative, intimacy and the psycho-dynamics of human interaction.
Images © The Artist: Top left: Buck Rogers Goes Vegetarian (2000); left: Orange Floater (1996); right: The Winter of Discontent (2004)