Melody Ellis & Matt Wilt
American ceramic sculptors.

There a few remarkable husband-wife pairs making ceramics and pottery in this world, e.g. Ursula & Karl Scheid (Germany), Otto & Vivika Heino (USA), Ruth & Alan Barret-Danes (UK), Gertrud & Otto Natzler (Germany), Margaret & David Frith (UK) and and others. Some make work together, some individually. What they usually all share is a studio and inspiration.
Melody Ellis & Matt Wilt are one such couple.
Melody Ellis (http://www.melodyellisceramics.com)

Melody Ellis studied in Britain at the Glasgow School of Art from 1991–92 and earned a BFA at the Tyler School of Art at Temple University, Philadelphia in 1995. She was also an apprentice at the Moravian Pottery and Tileworks in 1995 and the Fabric Workshop and Museum in 1997, both in Pennsylvania. She was artist-in-residence at the Watershed Center for the Ceramic Arts in 1996 and Visiting Artist at the Sam Houston State University, Huntsville, Texas in 1999 and 2001.

Ellis was awarded a First Prize at the Perry County Council of the Arts Little Buffalo Juried Art Exhibit in Harrisburg, Pennsylvania in 1999 and an Arrowmont School of Arts and Crafts Pi Beta Phi Scholarship in 2002. She makes narrative earthenware tile mosaics and jointed, wall-hanging figurative sculptures with bright, layered surfaces, drawing inspiration from childhood memories of antique dolls, hand made wooden toys, and other curiosities from the past. - Artist's Statement.
Matt Wilt (http://www.siue.edu/ART/faculty/wilt.html)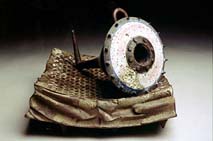 Matt Wilt earned a BS at Pennsylvania State University in 1991 and an MFA at Ohio University at Athens in 1995. He taught at Sam Houston State University, Huntsville, Texas from 1999–2001 and has been a faculty member at Southern Illinois University, Edwardsville, since 2002.
He has received several awards, including a Pennsylvania Council on the Arts Fellowship in 1997 and the Evelyn Shapiro Foundation Fellowship for a one year residency at The Clay Studio in Philadelphia in 1996.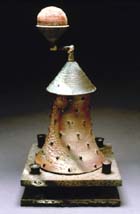 Wilt makes narrative sculpture with additions of nails, melted steel, fibreglass and wire. His ceramic arrangements typically incorporate found objects that have been remade and hybridised with other forms in various still life settings.
Images courtesy Ellis Melody & Matt Wilt. © The Artists