Wilhelm Kagel (1867–1935)
German pottery manufacturer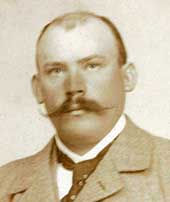 German frescoe painter, studio potter and pottery manufacturer Wilhelm Kagel was born in Mecklenburg in 1867. He initially worked as a tradesman painter, then from 1887 studied Frescoe and Decorative Painting at the School of Applied Crafts (Kunstgewerbeschule) in Munich. He finally settled in Patenkirchen, establishing a studio in 1892.
Works - Wilhelm Kagel I.
When orders for frescoe painting dried up, Kagel turned his attention to pottery in 1904 and in 1906 established his Art Craft Studios (Kunsthandwerkliche Werkstätten), where he made post-Art Nouveau ceramics. The workshop was to become one of the most important in the area, supporting 20 employees by 1910.
Works - Wilhelm Kagel II.
Kagel was succeeded by his sons Willy Kagel jr. (1906–1987), who had studied in the famous German ceramics center of Höhr-Grenzhausen from 1924-26 and Eugen (1909-1992), who took over administrative duties. After Willy Kagel junior's death the workshops were closed. Kagel's daughter Regine Kagel-Gilder was a ceramist and sculptor.
Works of the Kagel pottery will be on display at the Werdenfels Museum and Benkert Antiques from March 25 May 26 2006.