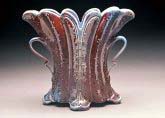 American studio potter Kristen Kieffer makes wheel-thrown, altered and soda-fired sculptural vessels inspired by Elizabethan to couture clothing, 18th century American silver and Islamic patterning and metal-working. She uses slip-trailing, stamping and sprigging to give surface textures to her Flower Vessels, Service Pieces, Lidded Forms and Cups and Bowls. While functional, the surfaces and forms of her pottery connote intimacy, sensuousness and an air of bygone sophistication.
Kristen earned an Associate Art Degree in Studio Arts at Montgomery College, Rockville, MD in 1993, a BFA in Ceramics at the NYSCC at Alfred University in 1995 and an MFA in Ceramics at Ohio University in 2001. She was a pottery intern with Greenfield Village at the Henry Ford Museum, Dearborn, MI in 1995-96 and has been an artist-in-residence at the Arrowmont School of Arts & Crafts, Gatlinburg, TN (1997-98), the Worcester Center for Crafts, Worcester, MA (2001-03) and Guldagergård at the Museum of International Ceramic Art, Skælskør, Denmark (2003).
She was John Glick's studio assistant from 1996-97 and assisted Brad Schwieger at the Penland School for Crafts for a summer session in 2001. Since 2001, she has been a Ceramics Instructor at the Worcester Center for Crafts and a workshop instructor at craft centers and universities around the country.
Artist's Statement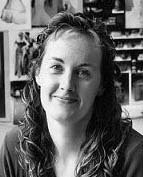 "I am curious about our culture's conceptions of the "everyday object" and find myself wanting to playfully challenge those notions within the parameters of pottery. While my work aligns itself with the detail, sophistication and beauty of a bygone era, my desire is to evoke an air of 21st century, daily extravagance. I question the seeming incompatibility that seems to exist in our current consciousness between function and adornment, and challenge myself to make the connection.
My latest curiosity in the reciprocation between function and decoration is based in the idea of beauty, a banal subject until teased open and questioned. The intrigue of unending layers comprising beauty (layers I wish for my own work) has led my influence of clothing toward the suggestive. Clothing and fabric& - Elizabethan to contemporary evening wear - with their contours and patterns have long been underlying allusions for my work. My latest forms reveal my forays into more intimate layers of beauty& - the sensuousness underneath.
Form, function and ornamentation are of equal importance to me as a potter. My hope is that the forms will invite closer inspection revealing the surfaces, which in turn entice the viewer to want to hold and use them".