3rd World Ceramic Biennale 2005 Korea
23rd April to 19th June 2005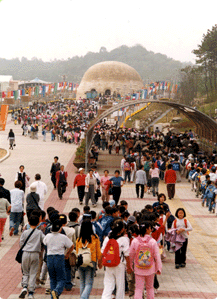 The 3rd International Competition, one of the main events at the World Ceramic Biennale, aims not only to discover newly emerging artists with potential power but also to foster and support their creativity. Prestigious ceramic specialists from every continent have screened the entries of ceramic artists from more than 60 countries. The top-notch awarding prize is one of the outstanding points that have attracted world ceramists' attention. This year's theme was 'Ceramics: The Vehicle of Culture'.
2,019 of Ceramic artists from 69 countries submitted 4,206 entries in the first International Competition in 2001, and 1,481 artists submitted 2,454 entries in the second International Competition in 2003. Recently, most of the artists who have participated in previous International Competitions organized by WOCEF have increasingly exhibited their works in the world, proving that this International Competition is becoming a springboard to recognition.
The final selection of the '3rd World Ceramic Biennale 2005 Korea International Competition' was held from February 1st through 3th for 3 days. The Grand Prize winner is Mr. Philippe BARDE (Switzerland), his work Human Bowl Faces from ceramics for use will receive a 60 million won prize. The Gold Prize (ceramics for use) went to Mr. Masanobu IDO (Japan)'s Sole and Ms. Kwai Ying (Irene) LAU's (China) Still Life (ceramics as expression) were selected. Further awards included 4 works for Silver Prize, 6 works for Bronze Prize, 8 works for Special Prize, and 5 works for the Juror's Prize, totalling 26 works. All the 186 selected works including 26 works for the prize will be exhibited in the 3rd World Ceramic Biennale in Icheon, Korea from 23rd April to 19th June 2005.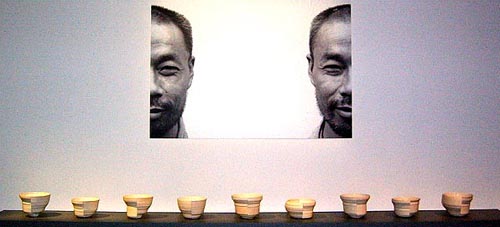 Human Bowl Faces, by Philippe Barde
Other events being held during the biennale.
World Contemporary Ceramics Exhibition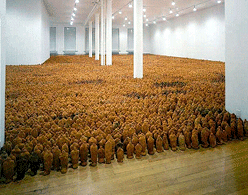 The world contemporary ceramics exhibition, 'Trans-Ceramic-Art' seeks to divine the future of ceramic art by presenting a new paradigm of ceramic art works in which diverse genres are crossed and integrated. This exhibition showcases the great potential of contemporary ceramic arts and diversity of culture reflected in ceramic arts, rather than presenting art in a chronological manner.
This exhibition is arranged after consultation with some twenty experts in ceramics including James Melchert, Emeritus Professor of University of California at Berkeley; Ronald Kuchta, Editor of American Ceramics; Koos de Jong, Director of the European Ceramic Work Center; and Shin Sang-ho, Professor of Hongik University. Looking at the hot issues of ceramics today, the realm of ceramics has expanded and now engenders painting, sculpture, installation and audio/visual images, expressing subjects about the identity of individuals such as the human body, details of everyday life, departure from tradition, ecology and consumerism, and addressing social issues entailing changes in everyday routines, history, culture, and politics.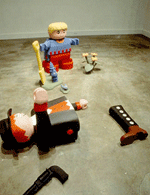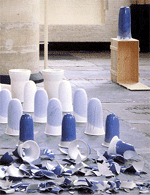 This exhibition of world contemporary ceramics is separate from the exhibition of the International Competition, which highlights all the major trends in ceramic art generally. Unlike the International Competition, Trans-Ceramic-Art is a contextual exhibition featuring culture and pure art. Contemporary ceramic art has multiple meanings and represents a significant step in cultural development in addition to 'medium' and 'creativity,' basic elements of artwork. Focusing on contextual aspects of contemporary ceramic art, Trans-Ceramic-Art is arranged as an exhibit with themes and explanations. This exhibition will be composed of 1) Beyond Medium, 2) Metaphor of the Body, 3) Poetics of Domestic 4) History, Tradition, and Culture, and 5) Post-global Society.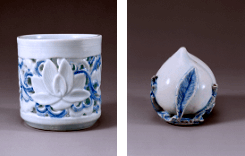 Traditional Korean Ceramics: Ceramics in Nature
Newly Introduced Exhibition to help understand the beauty and the characteristics of Korean Ceramic
This exhibition is aimed to look into the esthetic character and distinctive feature of Traditional Korean Ceramics and to raise issues regarding how contemporary ceramic artists can develop traditional ceramics. In addition, Ceramics in Nature will stress the beauty of traditional ceramics with the theme of 'Nature', an important concept of traditional crafts in Korea.
Ceramics in Nature will sum up traditional ceramics such as white porcelain, buncheong, traditional stationery, and tea sets. It also aims to highlight the invaluable beauty of ceramics by linking traditional ceramics with traditional wood furniture, dyeing, paintings, and writings. Visitors will absorb the beauty and characteristics of traditional ceramics while enjoying the exhibition. 50 artworks of 15 contemporary ceramic artists and 20 artworks of white porcelain and buncheong porcelain from Joseon Dynasty will be displayed.
Teapots of the World: Delightful Teapots
Teapots of the World is an attempt to look into the sculptural significance and function of ceramics teapots.
Since teapots have particular functions, they have conveyed enormously varied shapes and ideas from the beginning of ceramic history. A Teapot is a vessel possessing abundant sculptural shapes only for a single function. In other words, teapots show how the practical uses and shapes can be harmonized in an artwork. Against this backdrop, this exhibition will focus on the multiple shapes of teapots. Visitors can enter into the world of enjoyable and pleasant creativity with 'Teapots of the World; Delightful Teapots'
This exhibition is divided into two sections introducing history, functions, shapes, and characteristics of teapots and 4 major trends of teapots produced by contemporary ceramic artists from all over the world. In particular, it will show the trends of compositional geometry, the trends of fanciful shapes, and the trends of abstract expression, along with elements of function and composition.
This exhibition, illuminating the intimate subject to general people in their daily life, will provide visitors a delightful opportunity to enjoy extraordinary ideas and artworks of various artists, expressing different colors and characters
This exhibition sheds light on the value of ceramic art in natural surroundings. This exhibition explores the potential of ceramics as public art and is arranged as a unique garden of ceramic artwork. Set in the outdoors of the Icheon World Ceramic Center, the Landscape and Ceramics exhibition will be introduced as a Ceramic Sculpture Park, showing harmonious combinations of ceramic sculpture and nature. This exhibition is composed of the space of sound, space of landscape, the space of color and the world of character.
World-renowned artists who specialize in outdoor sculpture, will display their large-scale artworks, produced during their participation in 2004 Residency Programs organized by WOCEF. Environmentally friendly artworks of Ohira Kazumarka (Japan) will be produced at the site of exhibition spaces with materials such as clay, water and steel. The 10meter wide large-scale artwork is expected to be completed after having an outdoor firing in December. Prominent artists, Dae-hoon Kim, Ae-Gyu Han, Arnold Zimmerman, Brad Evan Taylor, Michael Sherrill, Regis Brodie, Nakaigawa Yuki, Madola, Gwen Heene, will participate in this exhibition. Not only as an exhibition but also as a ceramic sculpture park, 'Landscape and ceramics' will create refreshing spaces where visitors can meditate on the meaning of ceramic sculpture.