The Slipcast Object
Steamboat Springs Arts Council seeking entries.
Please note: The Slipcast Object Exhibit opens in Steamboat Springs, Colorado on November 12. See http://www.steamboatspringsarts.com/press.html for more info.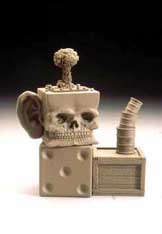 The Steamboat Springs Arts Council of Steamboat Springs, Colorado, is seeking entries for The Slipcast Object, an international exhibition, juried by Richard Notkin. This international exhibition is open to artists working with slipcasting.
Entry deadline is August 23. Exhibition dates are November 12, 2004 through January 9, 2005 at The Eleanor Bliss Center for the Arts at The Depot in Steamboat Springs, Colorado.
Entries are by 35mm slides only. Entry fee is $30.00 for up to 3 entries, $25 for SSAC members. Cash awards. Download a PDF prospectus (pdf format) or send a self-addressed stamped envelope to SSAC/Slipcast Object, PO Box 774284, Steamboat Springs, CO, 80477 or go to http://www.steamboatspringsarts.com/callforartists.html for more information.

In conjunction with The Slipcast Object, Richard Notkin will be conducting a workshop, Ceramic Sculpture: Concept and Technique, focusing on developing a philosophy and a personal aesthetic for sculpture and vessel making. The workshop starts Friday evening, November 12, with a slide lecture by Notkin and gallery opening of the exhibition, The Slipcast Object.
On Saturday and Sunday, November 13 and 14, Notkin will work with the participants on a hands on project, demonstrate mold making and plaster mold techniques, and large scale carving and altering methods. College credit may be available.
More information is available at www.steamboatspringsarts.com or email Beth at beth@steamboatspringsarts.com.