New Ceramics
The German magazine Neue Keramik goes international

In January this year a quiet transformation took place. A new kid arrived on the block. The German Magazine Neue Keramik launched its new international, English language version New Ceramics, as well as a fully English language complimentary website.
Does the international ceramics community really need another English language magazine, you might ask. Is it worth competing against such heavy-weights as Ceramics Monthly (USA), Studio Ceramics (UK) or Ceramics Art & Perception (Australia)?
New Ceramics introduces a fresh perspective into the world of Anglo-Saxon ceramics magazines and literature. It not only offers a European perspective, it offers a continental European perspective. While offering a central European outlook, New Ceramics is at the same time decidedly international. The German version was already moving more in this direction.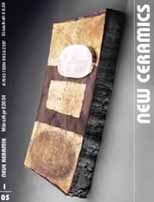 Issue 1 (Jan/Feb 2005) featured artists portraits of such international luminaries as Nino Caruso (Italy), Jiangshen Li (China) and Marta Nagy (Hungary). Add to this reports on the 1st International Ceramic Journal Editors' Symposium in China and the International Academy of Ceramics General Assembly in Korea in 2004, plus exhibition reports from around the world and you have an interesting mix. Add to this the German perspective with a fascinating series on historical stoneware from the Rhineland region and an equally interesting article on Anagama firing at the Institute of Ceramics & Glass in the ceramics center of Höhr-Grenzhausen. Some of these names and terms may be familiar to you. If they're not, you've got even more to learn and discover. Reading these articles will broaden your horizon and may give new inspiration, if you are a maker.
Issue 2 (March/April 2005) featured artists Shao-Ting Ju (Taiwan), Rene Reichenbach (Germany), Sidsel Hamun (Norway) and others. A highlight of this issue was a transcript of a talk by American ceramist Gerry Williams on the goal of ceramic journals and their influence on the field, as well as a report on Picasso's ceramics and another on Turkish faience motifs.
Issue 3 (May/June 2005) again has that international perspective - featured artists included Yikyung Kim (Korea), Prezemyslaw Lasak (Poland), Nan Beyer (Finland) and Gabriele Koch (UK/Germany). An article by Jane Perryman focused on the over life-size Aiyanaar horses of Tamil Nadu, which was of particular interest, as Ceramics Today also featured an article on the same topic by Ron Du Bois around the same time.
Issue 4 (June/July 2005) features my favorite cover: a cropped detail of works by German ceramists Rita Ternes and Thomas Naethe. This issue features Vietnamese ceramist Dao Droste, German ceramist Kyra Spieker and others. In the 'Forum' section, Garth Clarks presents a paper on Ceramic History and the Avant-Garde (an excerpt from his 'must-have' anthology of writing Shards). The exhibition section features reports on NCECA Bltimore, the Richard Bampi Prize (a major German ceramics prize) and a report on masterpieces of Japanese pottery in a major German collection (including Koie Ryoji, Tsujimura Shiro etc.).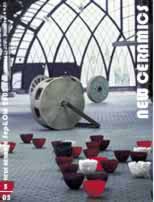 The current Issue 5 features portraits of Frenchman Franck Rousseaux, Irish potter Claire Curneen, Dutchman Mels Boom and Petra Bittl, who was recently awarded the State Prize for Crafts From North-Rhine Westphalia, Germany. The 'Forum' includes an intriguing article on Einstein and Ceramics, by former editor Gustav Weiss, while the 'Exhibitions' section covers the 3rd World Ceramic Biennale 2005 in Korea and Ceramic Art London 2005.
By launching an English version of the German magazine Neue Keramik, Bernd Pfannkuche has taken a bold step. It's a gamble, but one I hope will pay off. Today's world is becoming increasingly borderless and international. We see the Australian ceramics magazine being distributed in the USA, the Greek magazine also publishing in English (offering however a totally different perspective) and any number of online resources reaching out to an international audience.
New Ceramics has a place in this scheme of things and I am confident it will carve out a niche for itself in the world of English language magazines. Not in competition, but complimentary. If you still have doubts, give it a go. You won't be disappointed.