Laura Andreson Papers
From the Smithsonian Archives of American Art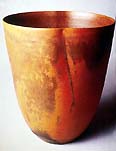 Laura Andreson was a distinguished American studio potter and teacher. In 1934 she established the ceramics program at UCLA, where she taught for 36 years, from 1933-70. She initially made low-fired earthenware, but turned to reduction-fired stoneware in 1948 and porcelain in 1957. Andreson retired from teaching in 1970, but continued to make minimalist vessels with a Scandinavian influence.
The following text and images appear as part of Digging for Clay in the Archives of American Art and are reproduced here with kind permission of the Smithsonian Archives of American Art.
Laura Andreson (1902–1999) had a long and distinguished career at the University of California, Los Angeles, where she taught ceramics from 1933 until her retirement in 1970. She was known for her research and testing of glazes and for her innovative firing practices.
While porcelain was her preferred medium, her method of forming a vessel began with the glaze. In an interview conducted for the Archives of American Art in 1981, Andreson noted: "…when I get a good glaze, then I think, well now, what would be the appropriate form for this to be placed on? Would it be a thin pot or would it be a thick pot? I visualize the pot after I have the glaze."
| | | |
| --- | --- | --- |
| | | |
| Pencil sketches of pots by Andreson, ca. 1961. | Andreson unloading a kiln at UCLA, ca. 1962. | An appreciation of Vivika and Otto Heino by Andreson |
Andreson' s personal papers, donated to the Archives by Pauline Blank between 1991 and 1996, include her correspondence, lecture notes, photographs, nine note-books containing glaze and clay recipes, and printed material.
| | | |
| --- | --- | --- |
| | | |
| Laura Andreson (1902-1999) trimming a pot, ca. 1940 (reproduction). Photograph by Imogen Cunningham. | Andreson's Glaze Book # 7, ca. 1939. | A letter from another California ceramist, Beatrice Wood, commenting on the Heinos, November 5, 1979. |
© Smithsonian Archives of American Art