Ryoji Koie - Ceramic Rebel
Article by Janet Mansfield

Followers of the ceramics of the Japanese artist Ryoji Koie could be excused for wondering what Koie will turn his mind to next. When I first met Koie in the 1970s he was making pots covered in slip and firing them with wood that had been dredged from the harbor near Tokoname, Koie's home town. These pots had flashes of red and brown and the sheen one associates with salt-glaze.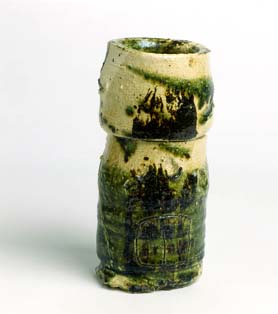 Since then Koie has been involved working in many styles. Significant are his works of social commentary that refer to Hiroshima, to Nagasaki, to Chernobyl. These works grace many museum collections and have serious and passionate impact for those who see them and are aware of their significance. Koie is also known for his work with unfired clay, bringing raw earth into the gallery for a series of happenings and events, radical ones of which, I have heard, caused the traditional ceramic establishment to raise their eyebrows. When I visited him in the 1980s at his studio in Gifu, he was cutting stone boulders in half, firing one half and then realigning both sections together before writing messages or signatures or dates across the cut sections. But the workshop was full of pots, woodfired, oribe green glazed and true fine examples of the potter's art. And it is the pots I believe to be the inspiration that has continued to fascinate Koie's followers and, possibly, the artist himself. It is in the pots that Koie shows his rebellious character. While these pots reflect all the pleasure and value we associate with the Japanese sense of beauty, we find in them a break with tradition. With these works he is placed between the pottery tradition and the contemporary art of the avant-garde. The beauty is there without doubt but we are also struck by the casual ease of the potter and his spirited approach.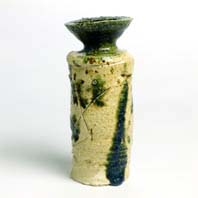 When Ryoji Koie accepted my invitation to take part in ClaySculpt Gulgong 1995, I was not sure what to expect. Arriving early he bought several items of old machinery, such as sewing machines, from the local townsfolk. Koie has made a number of works using fired metal, particularly for his Testament series which have appeared throughout his career.
A car accident limited his output during the Gulgong event to a number of teabowls made with one hand – the other was broken and confined in a sling. However his interaction with the other invited masters as well as the participants and his knowledge of woodfiring added considerably to the event, and his ebullient and compassionate personality led to many stories.
Born in Tokoname, a traditional ceramic town in Japan, in 1938, Koie has exhibited his ceramics and contributed to workshops and conferences in many countries. There are major publications and catalogues devoted to his ceramics and his work has appeared in books and magazines. His work was included in A Secret History of Clay, From Gauguin to Gormley, shown at the Tate, Liverpool, UK, and can be seen at the National Museum of Modern Art, Tokyo, and the Metropolitan Museum of Art, New York. In April 2005, his work will be exhibited at Boutwell Draper Gallery, Sydney.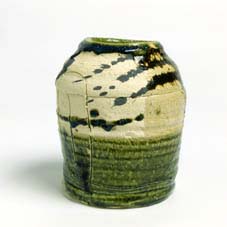 Ryoji Koie combines clay and glass in his figurative sculptures, creates museum installations and uses metal, both found and sought, with a variety of clays in other works. Known for his spontaneous response to any situation, he enjoys innovation whether it be in his paintings or in surface decoration on his pots. In a retrospective of his work at the Museum of Fine Arts, Gifu, in 1996, works were borrowed from individuals and institutions from many countries. Titled From the Earth, To the Earth, works included installations and non-functional pieces and mention was made of his unique tableware. These, in white clay with Oribe-style green copper glaze were described as "elegant, and while at first glance they seem modern and slick, they reveal delicate touches of traditional craftsmanship, the intriguing innovation lying precisely in the subtle interplay between the two styles."
Granted the Oribe Award, sponsored by the Gifu Prefecture for innovative activities that link industry and culture, Koie was the 1996 recipient because of his contribution to the development of creativity and imagination leading toward the 21st century. The catalogue published to honor the artist at that time emphasized his international workshops and exhibition program, focusing on the pottery he made in various countries. The Australian painter Michael Johnson, writing in the catalogue for the award said he felt "a sustaining joy to look upon Ryoji Koie's works of pottery. The silence of a singular artist's contribution is a worthwhile retreat... Innocence at this point in time: the dream world is relevant and important." Recognizing a remarkable aura created from the cultural past and contemporary world art in Koie's work, Johnson wrote: "The modest throwing of clay and glaze takes us to the inside of his expression, revealed on the outside; a sense of belonging. The naturalness, the energy of intuitive touch with the wet earth in his hands, he excavates and reveals the inner shades of meaning, fusion and flux that fires the imagination."
Article courtesy of Ceramics Art & Perception. Dr Janet Mansfield is a potter and editor/publisher of Ceramics Art and Perception and Ceramics Technical. An exhibition of recent ceramics by Ryoji Koie will be held at the Boutwell Draper Gallery, Redfern, Sydney, 13 April – 7 May 2005. Text & images ©.