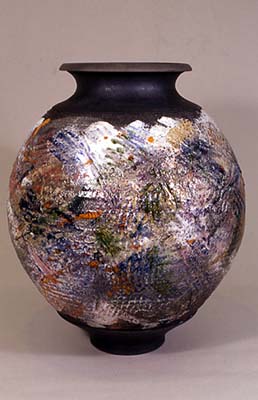 Vessel
18"H (45.75cm)
Wheel thrown, pressed and incised textured surface.
Brushed raku, stoneware, and commercial low fire glaze.
Raku fired, post firing reduction with wood shavings.
I've been involved with clay full time since 1975 making pots, teaching, writing, and operating my own studio. From my earliest introduction to clay I have always been fascinated and excited about the wheel. It is not one, but all of the components of that tool that hold and keep my interest; the speed, fluidity, and in particular, the sense of growth I observe and control during the process. My aim and ambition is to make good pots. My work is about vessels and the characteristics that make the vessel come alive: volume, texture, color, and scale. One of my objectives is, through my vessels, to preserve the connection between contemporary ceramic expression and pottery's origins as functional containers, not to transform and abandon it. Though my forms are not functional as in domestic ware, they do suggest function and are certainly containers.
Raku is a practice that offers the best of all worlds for me. The method is deeply rooted in tradition and I approach it with the utmost respect for the technique and it's origins. And while it's origins serve as a constant reminder to me of where the craft has evolved from, it's contemporary incarnation is very different. So, I can work simultaneously in a traditional method where all the rules have been established, and a contemporary technique where the rules are constantly in question.