Raku FAQs
by Steven Branfman.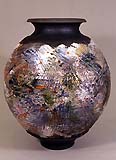 Frequently Asked Questions: RAKU
Compiled 5/31/96 by Steven Branfman, sbranfpots@aol.com. Author of Raku: A Practical Approach, Second Edition and The Potters Professional Handbook. The Potters Shop 31 Thorpe Rd. Needham MA 02494, 781/449 7687. Revised 9/02 COPYRIGHT © 1996. All rights reserved. Contact the author for permission to issue a copy in any form.
Raku is a technique that carries with it many misconceptions, confusion, and questions. Contained here is a brief explanation of what raku is, followed by some of the most common questions asked of me during workshops and demonstrations.
You may be interested in the format in which this is organized. I write a FAQ (frequently Asked Questions) column for an internet newsgroup (rec.crafts.pottery). This FAQ as well as several others are posted monthly, and periodically updated. If you have internet access you may want to check it out!
Raku is a pottery technique that has it's origins in 16th century Japan. We are pretty sure that it was developed by Korean potters under Japanese rule but the exact circumstances of it's development and in what context it was discovered is a mystery. The raku technique, like other pottery techniques such as salt glazing and pit firing, primarily revolves around it's firing process although involvement with raku often goes much deeper into its philosophy, roots, and cultural significance. Traditional raku and our western version of raku are similar in many ways though there are some significant differences.
To briefly describe the raku process we must understand that most all other types of pottery are loaded into a cold kiln where the firing proceeds slowly until the desired temperature is reached. This firing cycle may take anywhere from 8-24 hours or even longer. When the kiln has reached temperature (which is generally determined through the use of pyrometric cones), it is shut off and allowed to cool enough to be able to remove the ware using bare, or lightly gloved hands. The cooling cycle may last from 12-24 hours or longer. The ware is considered finished when it is taken from the kiln. In raku, the pieces may be loaded into a cold kiln but are often preheated and loaded into a hot kiln. The firing proceeds at a rapid pace with the wares reaching temperature in as short a cycle as 15-20 minutes (though raku firings can last up to several hours depending on the individual pieces and their firing requirements). Glaze maturity is judged by the trained eye without the use of cones or measuring devices. When the firing is determined to be completed the wares are immediately removed from the kiln. Since at this point the glaze is molten, tongs or other lifting devices are used.
This is the stage in the process where traditional and contemporary raku differ in technique and treatment. In our western version the wares are now treated to a 'post firing reduction' phase. The wares are put into a container with combustible material such as sawdust, or leaves and allowed to smoke for a predetermined length of time. The carbonaceous atmosphere reacts and affects the glazes and clay and imparts unique effects and surfaces to the wares. Some of these effects are metallic and crackled glazes surfaces and black unglazed clay. When the wares have cooled, they are washed with an abrasive cleaner to remove all residue of soot and ash.
2. Didn't Paul Soldner invent raku?
Not exactly. Soldner is an innovator and one of a few responsible for popularizing raku in this country beginning in the 1950's. Raku was first developed by Korean potters under Japanese rule in the 17th century. The circumstances that led to its launch and spread are somewhat of a mystery though.
3. How do pit, sawdust, smoke firing, and raku differ?
These types of firings are often confused with each other because they can share some similar characteristics. Briefly, raku ware is fired in a more or less conventional type kiln where glaze technology is understood and utilized. The others are forms of primitive firing where temperatures reached are generally lower and glazes are not commonly used. In primitive firings, the "kiln" may consist of a simple hole in the ground (ie, a pit).
4. Isn't raku a once-fire process where you don't have to bisque first?
Raku firing greenware is a sure way to line the bottom of your kiln with shards. Always bisque-fire to at least Cone 08 before glazing and raku firing.
5. Is raku suitable for functional use?
The traditional use of raku ware in the Japanese tea ceremony has contributed to confusion about the functional use of raku. With very few exceptions, all raku fired ware is fragile, porous, and generally unsuitable for functional use. Unless such fragile ware is treated post-firing with a non-glaze material, such as a polyurethane or acrylic sealer or an oil of some kind, the pots will sweat water and eventually breakdown. Treat raku as decorative. The occasional use of raku in a functional setting is OK but keep in mind that the glaze is soft and can be easily chipped and end up being ingested. If you must use your pots for food try to limit the use to dry food. The fragility of the ware also renders the reliability of handles and other appendages extremely questionable.
6. What constitutes a raku clay?
A raku clay is any clay that can be successfully raku fired. That includes most any type of clay out there! As I say at my workshops; "I've never met a clay that I couldn't raku." Generally though, a clay suitable for raku needs to contain a lot of fireclay and similar refractory materials so that it can withstand the sudden heat shock of the raku process. This includes most stock stoneware clays. The clay does not have to be loaded with coarse grog but it does have to be open enough to expand and contract without cracking. Most clay suppliers can help you choose an appropriate clay body. The other characteristics that you are looking for are your personal ones such as plasticity, color, texture, etc. Nothing needs to be sacrificed in order to have a good, reliable raku clay.
Similar to the question of raku clays is the answer to this question. Any glaze that you can successfully raku fire is a raku glaze. The most important factors in identifying raku glazes is the temperature at which they mature, how you plan on using them, and what kind of effects you are looking for. You must also keep in mind that if you are using a variety of glazes on the same pot or in the same kiln load, unless you know that they all mature to your satisfaction at around the same temperature, you will be faced with varying degrees of maturity. However, just because a glaze is formulated to fire at a temperature higher than your usual range doesn't mean that you should eliminate that glaze from your pallet. Experiment with your glazes to achieve a variety of surface effects from dry textures to surfaces with a high gloss. Don't limit yourself to homemade or personal glazes either. Try low fire commercial glazes for some unusual results.
8. Which cones do I use in raku?
The only cones that should be used near a raku kiln are ice cream cones. Because of the fast firing, varying atmosphere, multiple loads and other factors, pyrometric cones are generally poor indicators of heat and temperature so they are not used. Most raku potters fire their wares using the actual glaze melt as the visual indicator of maturity. Many potters, however, do use pyrometers or cones to warn of coming glaze maturity and then check the ware visually through the peephole(s). It takes some temperature of raku depends on the glazes that you are using. Most raku is fired in the range of cone 010-06. You must remember though that you as the maker of the pots are the final expert on whether a glaze is mature,
underfired, or overfired. If a glaze is not glossy enough, doesn't have the expected crackles or metallic effects, or doesn't exhibit any other characteristic that you find desirable, you need to adjust the firing.
9. How do you get those bright metallic effects? Sometimes my glazes don't crackle as much as I like. What can I do?
Assuming you are using the correct glazes, both metallic effects and dark crackle lines are a result of firing the glazes to their maximum maturity followed by a fast post-firing reduction technique. You must quickly get your pot from the kiln to the reduction container and covered before the pot has a chance to cool too much, otherwise the post-firing reduction will not be effective. Pronounced crackle effects are also often dependent on a thick application of glaze.
10. All I ever get are bright metallic effects. How do I get more colorful glaze effects?
This is the exact opposite of the previous question and problem. Brighter colors need a degree of post firing oxidation in order to develop. There are several ways to achieve this. When you remove the ware from the kiln, spray the areas with water where you would like more color to develop before placing the ware in the reduction container. This will oxidize and cool the glaze. Another method is to hold the ware in the air for 10 - 30 seconds before reducing the ware. Allow the combustible material to ignite and cover the container only after flames have clearly developed. Other potters will uncover the reduction container after a short time allowing the material to ignite again while fanning the ware. Using these and other similar techniques you will learn how to control the amount of metallic and colorful effects on your wares as well as grey to black unglazed areas.
11. Can I preheat my pots in the kiln as it is warming up (starting with a cold kiln). I will be using a fiber garbage can kiln with a lift-off lid, not one where the entire kiln lifts off. I don't see how my pots will get preheated enough by just setting them on the lid. Do they get hot enough on a fiber/expanded metal lid?
This question shows a common misunderstanding about the raku process. The only time you need to be concerned about preheating your ware is when you are doing multiple firing loads in the same kiln. The first load should always be in a cold kiln taking the temperature up slowly. Only if you are going to fire additional loads should you be preheating your pots on or along-side the kiln. If the lid of the kiln is a wire mesh/fiber lid then you might get enough radiant heat. Place the pots near the flue opening so they get the heat coming from the draft. Be careful not to place them too close, too soon, or they may break. After preheating on top of the kiln you can place the pieces around the base of the kiln after you remove the fiber chamber, let them heat up there for a minute or two, then put them on the kiln shelf letting them sit for another minute, then put the chamber back in place for a minute, then re-light the burner.
12. Must I use a certain type of kiln or can I fire raku in an electric
kiln?
Most any type of kiln can be used for raku as long as it meets certain requirements of the raku process. It must be located outdoors or in close proximity to the outdoors. You must be able to easily reach into the kiln to remove your ware. If you are going to be firing multiple loads the temperature of the kiln must be easily controlled. An electric kiln is perfectly suitable for raku although there are some special considerations that require careful attention. You must remember that you are exposing yourself to live electrical current when you open an electric kiln so you must protect yourself from any possible contact with the current. There'll be more on this in a subsequent revision of this FAQ.
13. When it comes to kilns I've heard the terms flue, damper, stack, and chimney. How do they apply to raku kilns?
All fuel fired kilns need some way for the gases to exit, the air flow to be controlled, and air to enter the chamber. Conventional kilns have a flue, damper, and stack (or chimney). The flue is a path in the kiln for the gases to move through after they have circulated through the kiln on their way to the stack. The damper is a device, usually a kiln shelf, that slides in and out of the lower part of the stack in order to control the size of the opening, thus controlling the exit of the gases and their mixture with air. Raku kilns are generally small and overpowered. Most have a simple opening in the top of the chamber covered by a kiln shelf shard. The kiln chamber chamber is essentially the stack with the opening the flue and the kiln shelf the damper.
14. Why can't I reach temperature no matter how much gas I use?
This is the most common question regarding the raku firing. Successful rise of temperature in any fuel-fired kiln depends on the correct mixture of air and fuel. A hotter kiln is not necessarily dependent on more fuel! If there is too much fuel, the atmosphere will be smoky, full of flames and the temperature will not rise. Also, if there is too much air, the temperature will stagnate or fall. Usually, the solution to a situation in which the kiln doesn't reach temperature is to increase the air in the air/fuel mixture. In a gas-fired kiln this can be done by increasing the available air in the burner or around the burner. You can also simply open the flue (the opening at the top of the kiln). Most potters use a venturi type burner that has a disk that screws open or closed. Open it for more air. If you are using a power burner in which a fan is attached, increase the air flow. Experiment to arrive at the correct mixture but be patient!
15. Don't the tongs used to lift the pots leave marks?
Sometimes they do. More often though the glaze is still molten enough that once the pot is released from the tongs, the marks tend to smooth out. In either case the tong marks should not be treated as defects but rather as characteristics of raku.
16. I'm confused about the term 'reduction.' Can you explain what this means?
Reduction is a firing term that refers to a lack of oxygen in the combustion process. This lack of oxygen in the atmosphere causes the fuel to search for oxygen elsewhere to allow for more complete combustion to take place. This can take place during a firing as in 'reduction stoneware.' In this conventional situation, the additional oxygen is found chemically bound in the the clay body and glazes. The result is characteristic reduction effects. Reduction as it is referred to in raku usually takes place out of the kiln separate from the actual firing as described earlier. However, just because you are doing raku doesn't mean that you can't experiment with actual reduction firing in the more conventional sense.
17. Must I remove my ware from the kiln to apply post firing reduction or can I insert reduction material into the kiln chamber?
As described earlier, post firing reduction is normally done by removing the ware from the kiln and placing it in a container with your combustible material. Certain situations may make it difficult to actually remove the wares from the kiln while they are hot. For instance your piece may be too large or awkward to handle. In this case you can achieve some post firing success by shutting off the kiln, adding your reduction material to the chamber, and closing off all open ports including the flue, peep hole, and burner ports. At best, the chamber will be only marginally sealed and since effective reduction depends on on air tight chamber, your reduction will be only partially successful. If your kiln is a lift off fiber type then you might try removing it and replacing it with a metal drum or can for the reduction phase.
18. Do different types of reduction material give different effects?
The short answer is yes. The long answer is much more complicated! Here is a medium answer: Your reduction effects are certainly influenced by how much carbon is in the atmosphere that surrounds your pot. In other words, how much smoke your pot is quickly subjected to. Some materials have the potential to release more carbon than others. The condition of your material (wet, damp, dry) as well as the particle size as in the case of wood materials (sawdust, shavings, chips) can be important. The type of wood can also affect your results.
19. Must there be clouds of smoke when doing raku?
Raku doesn't require smoke at all. There are two aspects of the process that have the potential for creating smoke. If you are using a fuel fired kiln (as opposed to an electric kiln) then it is likely that there will be at least some smoke generated during the firing. If you are doing post firing reduction, there will be smoke created then as well. The amount of smoke is determined by the efficiency of your reduction technique, the material you are using, and the amount of material you are using. If you are reducing in a container, the tighter the lid fits, the less smoke will exit the container. There are other techniques of reduction that create less smoke than others. Of course if you are not doing post firing reduction and simply cooling your ware when it comes from the kiln, then there is no smoke created.
'Smokeless raku' is not really smokeless at all. The term was coined by Jerry Caplan who has been developing his techniques for many years. It is a post firing reduction technique that is designed to produce minimal smoke by keeping the reduction chamber as air tight as possible. This can be done using a combination of tight fitting lids with 'gaskets' of wet paper or cloth. The tightest chamber is one made by inverting your container onto a bed of sand or dirt. Arrange a ring of sand or dirt on the ground for the lid of your container to fit onto when placed upside down. Place your reduction material within the ring. Quickly place your ware onto the material and cover it with the container pushing the rim of the container into the sand. Bury the rim with additional sand to keep the smoke in.

21. What is meant by 'naked raku' and 'slip resist' in raku?
Naked raku or slip resist refers to a variety of techniques whereby a clay slip is applied to the surface of the ware. This slip is formulated to peel away during the firing, and not permanently adhere to the surface. As the slip peels, shrinks, and separates from the surface it exposes the ware to varying degrees of post firing reduction. When the piece is cooled, whatever slips remains on the pot is removed by scraping and cleaning. As a further decorative process, you can scratch and draw through the slip prior to firing to create designs.
---

For a complete handbook covering everything you need to know about the practice of raku see the book 'Raku: A Practical Approach, Second Edition' by Steven Branfman, the author of this FAQ. The book is available at your favorite book store, pottery supplier, or you can order directly from Steven's studio, The Potters Shop, Phone: 781-449 7687 (inside US), +1-781-449 7687 (outside US) or email PottersShop@aol.com.