Gary Wornell
Artist Review
Note: links may be temporarily unavailable.
Gary Wornell is a diverse artist from Canada, now living in Finland. He was selected by the Finnish Design Forum for their summer show, Finn Design Now '02 and recently appeared in Kenneth Clark's new book The Tile. His current ceramic work fits in well with the Finnish design aesthetic. Based on a high professional standard, much of Finnish design reflects the stark contrasts of the landscape with the use of muted colors and natural materials.
Wornell worked mainly in porcelain between 1976 - 1986 and with terracotta between 1986 - 1996. Raku works and tile design compliment these two areas.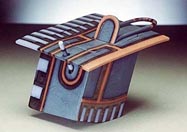 The porcelain works are mostly of a functional nature and range from a crackle glazed vase to a copper red bowl. The more recent terracotta works show more of a Nordic influence, displaying an astute combination of loose geometry and muted color combinations. Of these, 'Rocking Box' is my favorite.
A slightly more complex geometry is displayed in Wornell's Raku pieces, while the colors have been reduced to a simple but effective black and silver combination, giving these works a distinct character. Wornell's tiles, made in 1992 for the Japanese Inax Corporation, are also based on geometric patterns, but with an organic influence. Here the colors are dominated by blues and oranges. Archipelago, a wall piece made up of 120 square terracotta tiles, was exhibited at the artist's 1995 exhibition at the Tammisaari Museum in Finland, which was supported by the British Council.
Wornell's talents do not stop with his ceramic work. He has been increasingly looking towards the use of other techniques to express himself: oil painting, pastels, photography and digital imaging. His photographs of nordic landscapes are well composed and worth viewing. As with all images on this site, you can first check out thumbnails before deciding on viewing larger files.
Wornell says that he previously worked exclusively in ceramics, but has diversifed to express his interests, which are "connected to shelter; dwellings, fortresses, temporary structures and the way we shield and protect ourselves from, as well as expose and subject ourselves to, the harsh physical and mental realities of life; poverty, wealth, aggression and our rapidly changing environment and the way people adapt, reinvent their habitat and themselves according to their circumstances."
His latest project is ImageArk.com, a service providing high quality photographic images to individual and corporate customers world wide.