Vipoo Srivilasa
Artist's Profile
ipoo Srivilasa is a Thai ceramic artist, resident in Australia. Working in earthenware, Srivilasa creates works reminiscent of West Coast Funk. They are often socio-critical works with a central theme. This puts Srivilasa in the context of conceptual ceramic sculpture. The Coral Show is Srivilasa's newest series of ceramic works. These were exhibited at Haecceity Contemporary Ceramic Art Gallery in June 2001.
The complex, delicate beauty of coral reefs and coastal seascapes have held an abiding influence in the work of the Thai-born ceramist since he began living and working in Australia in 1995. In this series, Srivilasa creates biomorphic vessels inspired by sea-living forms, having collected and studied a vast array of coral specimens, sea creatures and vegetation. Here too is a notable turn toward the open vessel, namely the bowl or basket type form rather than the (closed) vase or bottle.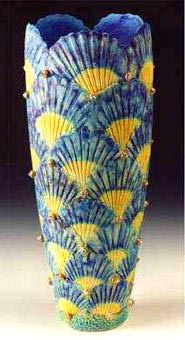 Entwined coral branches or freely floating tendrils that reach upward in shimmering display effect the strange wonder of sea-flora in bloom. Yet in spite of their figurative allusion, Srivilasa avoids faux naturalism. Rather, he invents a new formal language; a hybrid and stylized aesthetic produced by the combination of natural and cultural references into an imaginary sphere: a sphere of underwater magic and fantasy.
Drawing selectively upon historical, contemporary, Thai and European motifs, Srivilasa intelligently reinterprets and constructs disparate elements seamlessly. The Coral Show is thus as coherent as it is vibrant and dramatic. The artist's sensitive use of colour and texture, unified by his skilful and wide-ranging glazing techniques, result in works that are delightfully sensuous, confident and unique.
Vipoo Srivilasa has exhibited widely in Australia, Thailand and Singapore. He is represented in the Toowoomba Regional Art Gallery and numerous private collections in Australia and overseas.Visit him online at http://www.vipoo.com.