Ursula Scheid
Contemporary German Potter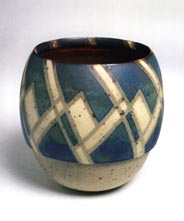 Ursula Scheid has been part of the German ceramics scene since the late 1950's, when she started an apprenticeship with Karl Scheid, who was soon to become her husband. Both Ursula and Karl are well-known contemporary German potters. They are members of the influential German ceramics group Keramikergruppe 83.
Ursula has won various German and international awards for her work, including in the US and Britain and is represented in various private and public collections, such as the Keramion, Frechen.
Her work reflects the German design aesthetic, with a tendency to precise forms, geometry and line work, and yet her forms have a great sense of fluidity and balance about them. Her experience shows in this work - it is a masterful piece.
Ursula and Karl Scheid are represented by Galerie b15 in Munich.