Gary Molitor
Cup with Handle and a Half.
Stoneware, cone 10 glazes with lead inlay. Wheel thrown forms hand manipulated and carved.
" Charles P. McKee (Bud) was a dynamic instructor. He was one of those really strong personality types that one either really likes or hates. I liked him and still do. At my young 23 years of age, every thing was exciting and the things he said were challenging; he made me think. The preconceived was always questioned. Could a pot transcend craft and become art? Was it possible for a clay object to ever be seen as fine art (the answer is still out on that one)? Where did influence stop and plagiarism begin? Was it ever possible not to be influenced and did "TRUE" creativity come out nothingness? The one thing I learned; It's good to think about things but better to make art".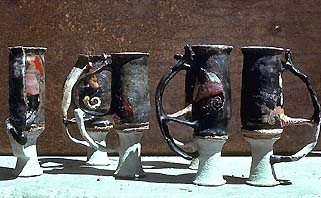 Gary W. Molitor lives and works in San Leandro, CA, USA.
The above text was extracted from Gary's web site. Used by permission. Text & images © Gary Molitor.
More Articles
More Pots of the Week