Bodil Manz
Danish Eggshell Porcelain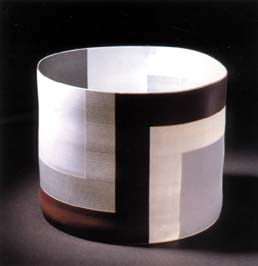 Bodil Manz has been known as a master of eggshell porcelain for many years now.
Her near paper thin cast porcelain cylinders are so translucent, you can sometimes even discern the light and shadow passing through both walls of a pot.
Bodil Manz was born in Copenhagen in 1943. She studied ceramics at the School of Arts & Craft in Copenhagen, then at the Escuelo de Diseno y Artesanias in Mexico and Berkeley University in California, USA. Her work is represented in the National Museum of Sweden, the Danish Museum of Decorative Art and the Victoria and Albert Museum.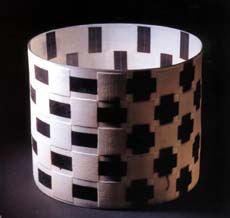 Her cylinders are slip cast porcelain, which she decorates with geometrical patterns on both sides, applied with plain decals. The effect is a pattern on the one side, offset by a shadow of a related pattern on the other. Interior and exterior play off one another to and merge form a complex whole. This is stunningly evident in the piece on the left, where horizontal bands on the outside mix with the shadow of vertical bands on the inside to form crosses.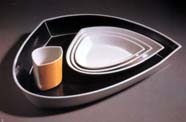 Besides her cylinders, Manz also designs tea and dinner sets and has made large scale architectural pieces. Bodil Manz continues to produce work in her studio in North Seeland. She is represented in the US by Garth Clark Gallery and in the UK by Galerie Besson.

More Articles
More Pots of the Week