Lucy Lewis
A Native American Potter (1897-1992)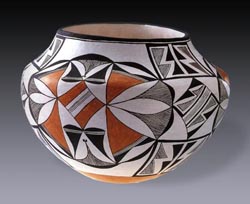 Lucy Lewis is regarded as the matriarch of Acoma pottery and alongside Maria Martinez, is one of the best known Southwestern potters. She started making pottery around the turn of the century, continuing a tradition dating back hundreds, if not thousands of years.
Pottery of the Southwest was generally coil built, molded or modelled and low-fired. Lucy derived her designs - painted on with colored slips - from shards found in the Kivas of the pueblo and Anasazi and Mimbres pottery she studied in the Museum of New Mexico. Her work has been shown nationally and internationally, including at the Smithsonian State and City Museums, Princeton University and the Department of the Interior in Washington, D.C.
For more information on Lucy Lewis and other Native American Women Potters, have a look at Pottery by American Indian Women by Susan Peterson.
More Articles
More Pots of the Week