Les Lawrence
American Ceramic Artist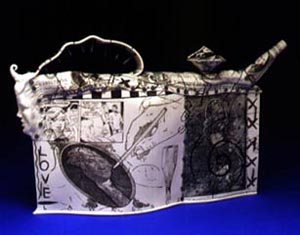 Les Lawrence, born in Corpus Christi, Texas, is a ceramic artist living and working in San Diego, California. He has become known for his work with screenprinting decals and his sculptural teapots. He is represented in over 20 public collections.
Bringing decals into the grasp of the everyday potter, Lawrence also developed a technique by which black and white decals could be made simply by laser printing on to decal paper. Lawrence has further shared his knowledge by instigating the International Museum of Print and Clay, where you will find information on screenprinting decals and other methods of printing on clay. The Water Closet Workshop is an interesting account of Lawrence's visit to the Swedish Gustavsberg Porcelain Factory. It includes links to many Scandinavian artist's pages.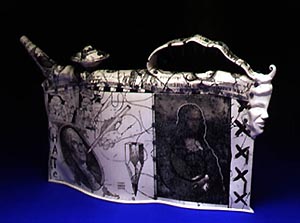 Besides this novel approach to decal making, Lawrence's work acquires an integrity through its precision and social commentary. From Lawrence's web site: "My work is about the physical process of making things. They are vessels in subject but not functional. I think of them as sculpture, photography, and printmaking combined. I am asked about the meanings behind the images. They are a narrative that is an emotional statement first and an intellectual statement second".
Currently, Lawrence is Professor at the Ceramics Department of Grossmont College. More of Lawrence's work can be found at his web site, http://www.leslawrence.com/.
More Articles
More Pots of the Week