Dorothy Feibelman
British Neriage Practitioner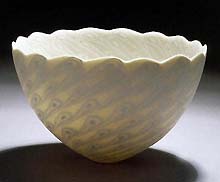 Dorothy Feibelman makes vessels of delicately patterned clay. Often she uses colored clays, which are inlaid, a technique which is commonly known as neriage, but which she calls millefiore. Rolled out slabs of clay are painted with patterns of colored slip, then layered and rolled out again. With a sharp knife, Dorothy cuts slices from the slab, which are turned on their sides and bonded back together again. After rolling out, these new, colored slabs can be used to handbuild (with the help of a plaster mold) the delicate forms she has become known for.
In the case above, the colors are bit more muted than usual, but the light passing through the translucent walls reveals the inlaid pattern to great effect.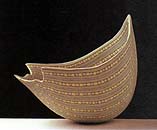 Dorothy's works are found in numerous public collections around the world, including the Victoria and Albert Museum, UK, the Indianapolis Museum of Art, USA, the Metropolitan Museum of Art, New York, the Museum of Contemporary Ceramics, Shigaraki, Japan and the Hamburg State Museum, Germany, to name a few. Ms Feibelman lives and works in England, UK. She is represented in the US by Moblila Gallery, Massachusetts.

More Articles
More Pots of the Week