Raymond Elozua
Contemporary ceramic sculptor.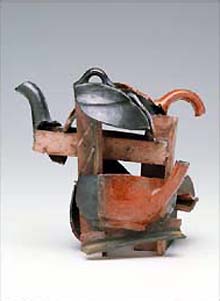 Raymond Elozua was born in Germany in 1947. He studied Political Science, Sculpture and Theater at the University of Chicago from 1965-1969 and was Consultant and curator for the Allan Chasanoff Ceramic Collection from 1979-1999.
Elozua's ceramic skills are mainly self-taught. He has been making art and exhibiting since the early 1970s. Initially making clay vessels, Elozua progressed to sculpture, becoming famous for his ceramic sculpture and deconstructed vessel objects. Decay is a recurring theme in Elozua's work, which was influenced by his childhood in industrial south Chicago.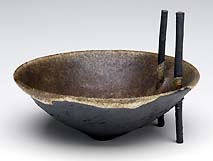 His work is represented in many public and corporate collections including the American Craft Museum, New York, NY, the Everson Museum of Art, Syracuse, NY, the Museum Ludwig, Aachen, West Germany and the Museum of Fine Arts, Houston, TX to name a few.
At the Mint Museum of Craft & Design, Elozua is currently the topic of an exhibition spanning his 30 year career: Constructing Elozua - A Retrospective. His work is also represented by Ferrin Gallery, Lenox, Massachusetts.
Elozua currently lives and works in New York City.
More Articles
More Pots of the Week