Peter Callas
American Abstract Expressionist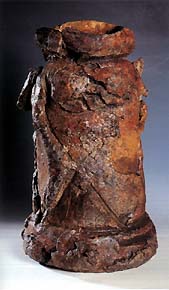 Peter Callas, born in Jersey City, N.J. in 1951, is an American potter who has been influenced by the Japanese woodfiring tradition, as well as the work of his friend and collaborator Peter Voulkos († 2002).
While these influences are apparent, Callas has developed his own unique style and made his mark on the woodfiring scene with pots as well as sculpture.
During his travels in Japan, Callas became particularly enamored with Anagama kilns, which he continues to use to this day. Pieces that are fired in this way have an ancient look about them, as if they had been sitting on the bottom of the sea for thousands of years.
Callas has exhibited extensively in the US as well as Japan and can be regarded as an established figure in Anagama woodfiring as well as a proponent of Abstract Expressionist ceramics, in league with Voulkos, Soldner and others.
ClayArt Center in Port Chester, NY in will be hosting a show of Calas' work as well as a two day workshop in May 2003.
Further reading: Peter Callas Gallery
More Articles
More Pots of the Week