Ceramics Research Center
ASU Art Museum
Herberger College of Fine Arts
Arizona State University
The Permanent Collection

The Ceramics Research Center, a national and international destination point for the hands-on study and enjoyment of ceramics, houses and displays the Arizona State University Art Museumís extensive ceramic collection of more than 3,000 objects. The Center is a teaching and research facility, an educational component of the Herberger College of Fine Arts. The collection seeks to embrace representative works by artists, or subject matter that reflects the social, cultural and historical activities of the world. The international holdings demonstrate the full range of technique, aesthetic approaches and possibilities within the medium.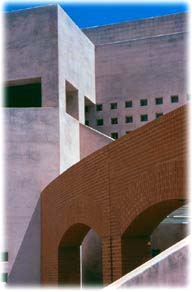 Over the years, the collection has grown through acquisitions and the support of collectors, actively collecting and exhibiting ceramics since the late 1960s, under the directorship of Director Emeritus Rudy Turk. Gifts came from Jay and Joyce Cooper, Stéphane Janssen, Joanne and James Rapp and Astrid Thomas, and many others with a passion for ceramics. In 1998, the museum was the recipient of the Anne and Sam Davis collection of 315 modern and contemporary ceramic works by 120 British and American ceramists, a gift that raised the profile of the collection to national importance. When the new Ceramics Research Center facility opened in March 2002, Sara and David Lieberman promised their impressive collection of international contemporary artists to the Center. Reflecting many of the important artists, movements and accomplishments in ceramics in the second half of the 20th century, the Lieberman gift, of unprecedented generosity, makes the collection among the most important in its field.
Major artists represented in the collection include Rudy Autio, Hans Coper, Ruth Duckworth, Shoji Hamada, Karen Karnes, Bernard Leach, Maria Martinez, Otto and Gertrud Natzler, Lucie Rie, Edwin and Mary Scheier, Angus Suttie, Akio Takamori, Peter Voulkos, Kurt Weiser, and Betty Woodman, to name just a few.
The Facility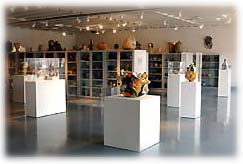 The Ceramics Research Center, located just north of the ASU Art Museumís Nelson Fine Arts Center, provides 7,200 square feet of gallery, storage and archival space. Every year, the Center features three exhibitions on important movements and artists who have made significant contributions in the ceramics field. Open storage units provide year-round access to a majority of the museumís permanent collection, providing students, scholars and the general public an opportunity to view important works from the collection. Visitors may also request by appointment a close viewing of specific ceramic works from the collection.
The Susan Harnly Peterson Archive
Plans are underway to develop an archive, which will be a dedicated research area. Students, collectors, museum curators and scholars can arrange appointments with our curatorial staff to examine specific works in the collection and related archival material. The archive will house the collected works of scholar Susan Harnly Peterson comprised of research materials including books, artist correspondence, photographs and videos from her lifelong career researching and writing about ceramics. In the future, archival materials and works from the collection will be available on the Internet, providing global access to technical, critical, and historical information.