Ah Leon
Yixing meets Illusionism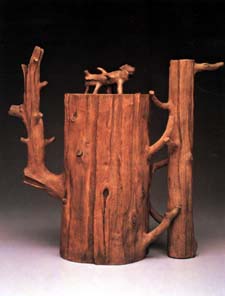 Ah Leon is a Taiwanese potter working in his own version of the Yixing tradition, in which he has melded Yixing with modernism in the form of his illusionistic works.
His 'wooden' teapots, made from Yixing stoneware (a.k.a. in China as 'purple clay') are highly realistic. Although some traditional Yixing teapots also imitated wood, Ah Leon's works are by no means copies. Working in this tradition, Ah Leon also found it necessary to develop his knowledge of the Chinese Tea Ceremony. He is now also a tea ceremony instructor as well a consulting editor to Taiwanese tea magazines Purple Sands Magazine and Tea Pot World.
Ah Leon was already working in a contemporary manner making teapots, when he visited the USA in 1987. That visit was to have a great impact on his work, which then became larger and more expressive.


His works have been purchased by various galleries in Taiwan, the US and elsewhere, including the Metropolitan Museum of Art, NY. He is represented in the US by Garth Clark Gallery, NY.

More Articles
More Pots of the Week