Grayson Perry
British ceramist, visual artist & writer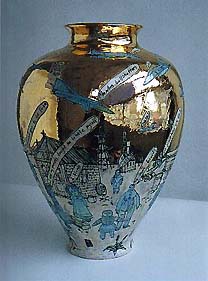 Grayson Perry was born in Chelmsford in 1960. He studied at Braintree College of Further Education and at Portsmouth Polytechnic. His numerous solo exhibitions since the early 1980s include James Birch Gallery, London (1984), Birch & Conran Gallery, London (1987), Fig 1, London (2000) and the recent major solo presentation of his work, Guerrilla Tactics, at the Stedelijk Museum, Amsterdam and the Barbican Art Gallery, London (2002). He has participated in many group exhibitions including Young Contemporaries (1981-2), Objects of our Time, Crafts Council touring exhibition (1997-8), Over the Top, Ikon Gallery, Birmingham (1999), The British Art Show 5, touring exhibition (2000), Protest and Survive, Whitechapel Art Gallery, London (2000), New Labour, Saatchi Gallery, London (2001).
| | |
| --- | --- |
| | Dolls at Dungeness, September, 11th 2001 - Immediately after the attack on the twin towers, the media seemed to be full of reports of prejudice and anger from all sides. In this pot the toys are just as much the bigots and aggressors as the war planes flying overhead, both are inanimate objects on to which we project our feelings. My father helped to build Dungeness Nuclear Power Station. |
In the early 1980s Grayson Perry was a member of the Neo-Naturist group, participating in performance and film works. He has continued to make work in a variety of media which now include embroidery and photography. Yet Perry is best known for his ceramic works, creating classically shaped vases decorated with figures, objects and text, which stand within a tradition stretching back for centuries. The revealing and often dark subject matter depicted on these pots is at first disguised by their colourful, decorative nature. His chosen topics include autobiographical images of himself, his transvestite alter ego Claire, and his family, as well as references to political events and an investigation of observed cultural stereotypes. Over the last five years Perry has also used embroidery and photography to explore these themes, most notably in the photograph Mother of all Battles (1996) which shows Claire holding a gun, and wearing Perry's first embroidered folk costume. This was followed by Claire's Coming Out (2000), which Perry staged as a performance to present a richly embroidered childlike dress for Claire, in this instance merging his private female persona with his artwork.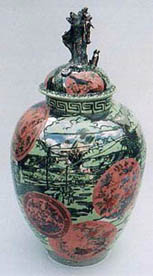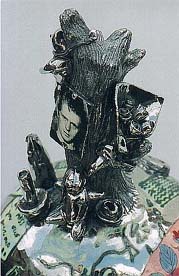 Barbaric Splendour, 2003 - Roadside shrines, post-Diana outpourings of common feelings. Perceived as vulgar by those that regard the taste for elaborate decorative arts of the lower orders as morally inferior.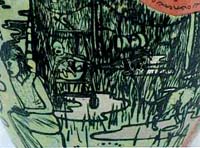 Perry looks back to his upbringing in the Essex countryside to find his subject matter as presented on the vase, I was an Angry Working Class Man (2001) which presents the recognizable iconography of motorbikes, pub signs and other images of manhood, topped off with the golden figure of an emasculated Pit Bull Terrier, mascot of the stereotypical Essex Man. He also seeks to engage directly with contemporary issues such as in the vase We've Found the Body of your Child (2000), which deals not only with paedophilia, but with child abuse within the home, or Dolls at Dungeness, September 11th 2001, which depicts seemingly innocent infant figures playing in the bleak landscape, whilst war planes hover overhead. Operating within the tradition of William Hogarth or James Gillray, he also uses his ceramics to satirise other art forms, as in Gimmick, 1996, which lists artists' trademark methods, such as Jackson Pollock-drips or Alexander Calder-mobiles. Perry employs and simultaneously subverts the craft form of ceramics, revelling in its second class status within world of fine arts, to explore challenging, yet witty and thought provoking themes. Perry comments, 'A lot of my work has always had a guerrilla tactic, a stealth tactic. I want to make something that lives with the eye as a beautiful piece of art, but on closer inspection, a polemic or an ideology will come out of it'.

Grayson Perry, 43, lives and works in London. He won the 2003 Turner Prize, the first time a potter has participated, let alone won this prestigious UK prize. His comment on winning: "It's about time a transvestite potter won the Turner"! He is represented in the UK by Victoria Miro Gallery.
The above is a press release from Tate Britain, May 2003. Text and images used by permission of the artist.
More Articles
More Artists of the Week