Some links open in a new window.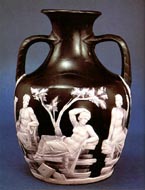 Wedgwood's famous Black Basalt and Jasper ware Portland Vase of 1790 was modelled on a Roman cameo glass vase from around the 1st century BC. The original is also known as the Barberini vase. The vase was found near Rome in an ancient marble sarcophagus. After passing through several hands, it was acquired by the Duke of Portland, by whose name it is known today.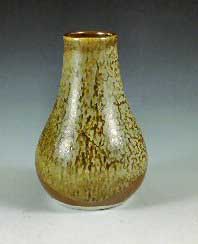 Did you know that a mixture of 77% cat litter and 23% cement will make a nice cone 10 fake ash glaze? No? Then you must have missed John Britt's article on the use of alternative household materials in ceramics...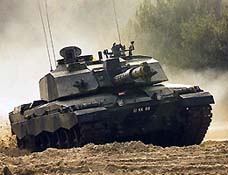 It seems there is no limit to the use of ceramics in technology, be it for peaceful purposes or otherwise. Ultrahard ceramic layers are built into the steel in tank bodies. When a projectile penetrates a layer, it pulverizes the ceramic, breaking the bonds that bind the molecules together. This chemical change causes the ceramic fragments to expand. In expanding, they grind up the softer material of the projectile, making it inoperative.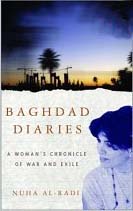 In 2003, Iraqi studio potter and painter Nuha al-Radi published her account of the first Iraq war titled Baghdad Diaries, A Women's Chronicle of War and Exile. Al-Radi went into voluntary 'exile' in Lebanon, teaching at the American University of Beirut. She later commuted between both countries. She died in 2004 of leukemia, supposedly induced by uranium-tipped ordnance used in both Iraq wars.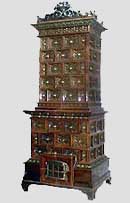 Jakob Kraut (1568–1641) was born the son of German tile stove maker Hans Kraut (ca. 1532–1592). He also became a tile stove maker. Unfortunately he must have associated with the wrong people or someone bore him a grudge - he was denounced to the inquisition as a sorcerer and executed in 1641. More on the history of tile stoves.
Source: Christian Roder, Zur Lebensgeschichte und Würdigung des Hafners Hans Kraut von Villingen und seiner nächsten Nachkommen, in: Zeitschrift für die Geschichte des Oberrheins no. 61, 1907

Known to few today, Katherine Pleydell-Bouverie published two novels before turning her attention to pottery full-time. They were January, published in 1924 and The Inn in the Valley, published in 1927.
Pictured: Pleydell-Bouverie's Leach kick wheel.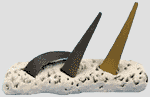 Orton cones were invented in the 1890's by American ceramic engineer and teacher Edward J. Orton Jr. (1863-1932) to accurately measure kiln temperature. In 1896 he established his Standard Pyrometric Cone Company. Orton was also a co-founder of the American Ceramics Society in 1899, as well as President of the Ohio Institute of Mining Engineers from 1893-94, Ohio State Geologist from 1899-1906 and Dean of the College of Engineering at The Ohio State University from 1902-06 and 1910-15.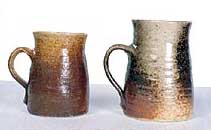 Studio potter Mirek Smisek was born in Czechoslovakia and emigrated to New Zealand via Australia in 1951. His work has possibly been seen by more people than any other New Zealand artist - namely in the Lord of the Rings trilogy, in particular the goblets, jugs, wine bottles and bowls to be seen in the Prancing Pony scenes in The Fellowship of the Ring.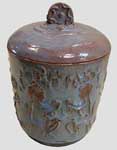 Before turning his attention to pottery in the late 1920s, Frederick Carlton Ball (1911-1992) was a prize fighter who went by the name "California Gene Tunney". During that time he also worked in the local mines, packing explosives into blast holes. Ball later went on to teach ceramics at several colleges for more than 40 years, including the California College of Arts and Crafts, Southern Illinois University, the University of Puget Sound, Mills College, Oakland and the University of Southern California, where Fred Olsen was amongst his students. He also wrote a book called 'Decorating Pottery with Clay, Slip and Glaze'.
Source: Rick Mahaffey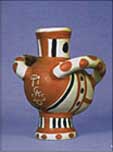 Pablo Picasso is known as one of the greatest painters of the 20th century, however not that many people know about his prolific ceramic output. The Spanish painter showed an interest in pottery as early as 1904, when he made his first ceramic work, 'Woman Combing Hair'. Developing a passion for clay, he worked at Suzanne and George Ramié's Madoura pottery in Vallauris, France for two years from 1947–48, returning there in subsequent years until 1971 to make more pottery.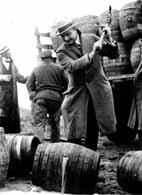 The old J.B. Owens Pottery and Tile Plant in Zanesville, Ohio became notorious after it closed as a pottery, for being the site of a concealed and illegal liquor-making operation set up after the repeal of prohibition in the USA, to avoid the paying of Federal Excise taxes. It turned out to be the largest capacity still ever shut down by the federal government. HB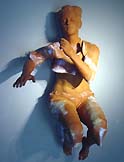 Canadian ceramist Kathy Venter's bizarre ceramic 'Immersion Series' consists of life-size figurative sculptures of people floating under water. It is left to the viewer's imagination to figure out due to which circumstances they are immersed in water. Despite a faint smile on one face, that fact that they are wearing clothes would indicate that these 'people' drowned... Non-the-less, Venter's interpretation of the effects of underwater low-gravity are intriguing.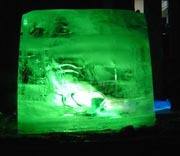 What could possibly be the last thing you'd build a kiln from? Hmmm, maybe ice? Never one to shy away from a challenge, this is exactly what intrepid New Zealand potter Peter Lange (yes, the guy who built a brick boat) did at the 46th New Zealand Studio Potters conference in Invercargill. And, oh, did I mention the wood kiln? (A kiln built of wood...)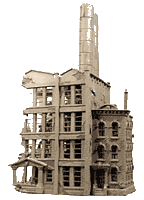 John Brickles creates hyper-realistic buildings made from slabs of clay. Walls are cut out from the slabs, stood up and joined at the corners with slip. Windows are cut out and textures added. Bricks are inscribed with a needle and ruler. Boards and shingles are extruded from a clay gun and are attached individually.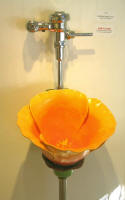 Clark Sorensen has created some of the most amazing and beautiful urinals you are likely to ever see. Each one is meticulously hand-built and one-of-a-kind - formed from high-fire porcelain and fired to cone 10 (2300 deg. F.). They are fully functioning vitreous porcelain fixtures that can actually be plumbed and used in a bathroom or simply displayed.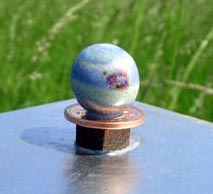 Canadian studio potter Steve Irvine has created a model of the Solar System - to scale! The distance from the 'Sun' to 'Pluto' is 400 meters (about 435 yards). The solar system is located in a field next to 'Keppel Henge', a site constructed by Irvine and Bill Loney in 2000, featuring a six meter sundial and a series of megaliths. Pictured: Jupiter.

Joan Lederman is a Massachussetts based studio potter who has developed a technique of glazing with sediments deep from the ocean floor. The sediments are sourced from core samples collected by the Woods Hole Oceanographic Institution in locations ranging from the Grand Bahama Banks to the Bering Sea and the North Atlantic.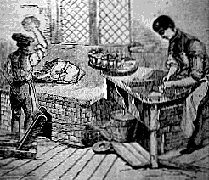 In 19th century Staffordshire, the 'muffin maker' was a potteries worker, who specialized in making small plates less then 7 inches (18 cm) in diameter. The plates were made on a mold, in a jigger/jolley fashion. The 'mold runner', usually a young boy of as little as 9-10 years of age, would take the mold with its newly formed plate to a drying room and bring another blank.
Source: When I was a Child, C. Shaw (An Old Potter), 1903.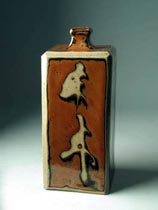 Shoji Hamada was a potter who did not sign his pieces. Once he was asked about another potter who was copying his work. His response was that "in a hundred years his best work will be attributed to me and my worst work will be thought to be his".
Source: Sebastian Blackie, Dear Mr. Leach... Some Thoughts on Ceramics.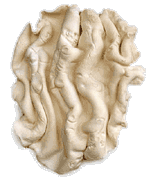 Paper usually contains kaolin, calcium carbonate or clay as a filller and 'whitener'. Therefore, when making paperclay, one might have to consider changes to the maturing temperature of the clay due to the extra 'raw' materials added with the paper. The maturing temperature may go up or down, dpending on the original maturing temperature of the clay and the composition of the paper.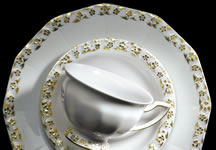 Privy Councilor and founder of Rosenthal Porcelain Manufactory Philip Rosenthal (1855-1937) was also a great designer. His renown classic service 'Maria' of 1916 was lovingly named after his wife, French Countess Maria de Beurges.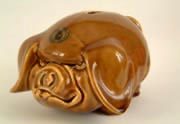 The Piggy Bank probably derives its name from the orange clay, "pygg" from which it was originally made. By the turn of the eighteenth century, the jars had acquired the name of "pig banks". They were ceramic and had no hole in the bottom, so the pig had to be broken to get the money out. To this day in some European countries, it is customary to give piggy banks as gifts because the belief is still held that pigs bring luck and good fortune.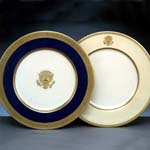 In 1918 President Woodrow Wilson commissioned the US porcelain manufacturer Lenox Incorporated to create an official state service of 1,700 pieces, making Lenox the first American china to grace a president's table. It remains the only American porcelain in continuous use at the White House for more than 85 years, with new services created for four subsequent presidents: Franklin D. Roosevelt (1934), Truman (1951), Reagan (1981), and Clinton (2000).
'Clay' proverbs from around the world:
The same heat that melts the wax will harden the clay. (English)
A clay pot of water is never hot-tempered. (Nigeria)
A watched pot never boils. (English)
Should I follow this route with some clay soil or that one with ochre. (Kenya)
Work with clay while it is still wet. (Kenya/Swahili)
Clay pots kept together don't cease to rattle. (Kenya/Swahili)
Candlemas day, put beans in the clay; put candles and candlesticks away. (Yiddish)
A clay figure fears rain. (China)
They prevent us from getting red clay from the pit, and they do not use it. (South Africa/Xhosa)
It is dangerous for a clay Buddha to play with water. (Japan)
If you have no teeth, do not break the clay cooking pot. (Chewa/Malawi)
Clay and lime conceal much evil. (Spanish)
Many a day shall we rest in the clay. (Irish)
Various sources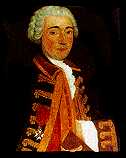 In 1765, the wife of French surgeon Jean-Baptiste Darnet was using a white and unctuous paste that whitened fabrics to wash her linen. Her husband was eager to commercialize the mysterious substance and went to see an apothecary to work out a formula for a new detergent. The apothecary identified the material as pure white kaolin, spawning the Limoges ceramics industry.
Source: Couleur 87

A Zen story tells of a master who, on handing a beautifully lacquered bowl to a monk, asked, "What's the most important part of this bowl." The monk carefully examined the detailed and delicate gold work, the polish and sheen of the bowl's surface and finally admitted he didn't know. "This part", the master said and with a sweep of his hand indicated the inner volume of the bowl.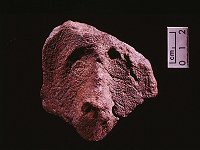 The mysterious face of a bearded man staring out from an ancient piece of pottery has given scientists a glimpse of what the first settlers of Fiji may have looked like. Researchers said the "extraordinary discovery" was a vital clue in mapping out how the South Pacific came to be inhabited some 3000 years ago, suggesting the first direct link to islands some thousands of kilometres away. The researchers think the pottery was the work of the Lapita people, a long-lost race that originated near modern-day Taiwan then migrated to Polynesia.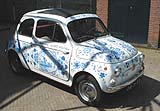 In Delft, The Netherlands, people take their traditional pottery very seriously, as is attested by this car, painted in the classic Delft Blue style.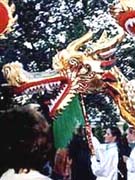 According to Chinese symbolism, the dragon represents masculinity and the phoenix femininity. However in some Chinese folklore, the human race was created by Nu Wa, a half dragon, half women, who fashioned the first human beings out of clay.

During World War II, Shoji Hamada traveled to England, visiting Bernard Leach at his St. Ives pottery so often that authorities began to suspect him of spying for the Japanese government.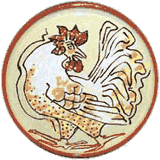 At the Golden Egg Farm Poultry and Pottery in Hardwick, Massachusetts, USA, pottery is produced and poultry is reproduced. Terracotta clay is used to produce functional ware, sculpture and ceramic tiles and (surprise!), pottery themes tend to include poultry. HB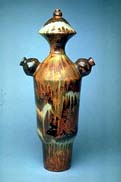 Tenmokku glazes originated in China before the Sung dynasty, in the region of the Chien Ch'i river, where they are known as Chien Yao or Jian Yao. The Japanese name Tenmokku (or Temmoku) is derived from 'T'iem Mu Shan', the 'Mountain of the Eye of Heaven', the location of a monastery in Chekiang province, China, where a tea ritual was performed using Jian bowls. Pictured: Tenmokku Jar by Wang Chun Wen.

The WTO, also known as the World Toilet Organization has just concluded its World Toilet Summit 2004 in Beijing, China. Hot topics included toilet management and hygiene, toilet design and energy-saving measures. Participants are dedicated to the development of world toilets and discussed the trend of the world toilet development and the latest toilet technology. Pictured: Marcel Duchamp's 'Readymade' of 1917.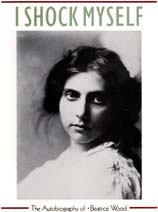 Renown, exuberant American studio potter Beatrice Wood (1893-1998) lived to the ripe old age of 104 and continued to make work until shortly before passing away. Hers is a rich and exciting story. She began her career in theater and was a good friend of Dadaist Marcel Duchamp. Wood narrated her exploits in her autobiography I Shock Myself, written when she was 93.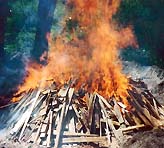 Pit firings can attract the attention of the local fire department, especially in urban areas. One member of the Clayart Listserv, resident in Texas, had this suggestion: "Work out what is legal and ordinary to burn, and tell the fire department that was the fuel. In Texas people barbecue with mesquite a lot, and there is often smoke at the beginning. For a pit firing I would add a few mesquite logs, which have a very distinctive odor, and voila! Nobody tells a Texan they can't barbecue..." HB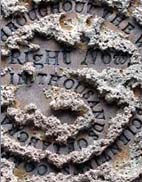 Initially developed by Georgia studio potter and teacher Rick Berman and adapted by Cleveland potter Todd Leech, 'Salku' is a 'glazing' technique whereby salt is introduced into a fast-firing kiln mid-fire. The surfaces of the resulting pots are extremely crusty, non-functional, and in fact tend to disintegrate over time.