Gloria Singer
Gloria Singer Pottery
East Brunswick, NJ 08816
http://www.gloriasingerpottery.com/
GloriaIs@pobox.com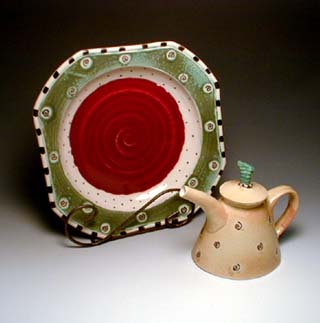 untitled
Soy/Olive bottle 6" x 5" x 5"
Plate 91/2"
Multiple glazes are sprayed and masked in layers to achieve this surface.
Fired in oxidation to cone 6.
Artist Statement:
I have been a painter, illustrator and graphic designer all my life. Ten years ago I became interested in ceramics. Making pots has become my passion. Clay is an extension of myself. Learning each day to define the form a little better. I am constantly juggling control and spontaneity, looking to find my own voice in clay. My pottery, when it is successful, demands to be held. It is a thrill to watch someone hold my pot as if it is a thing of beauty, a cherished object.
For me, glazing is the most interesting part of the entire process. I am a compulsive tester, and I while I am not always thrilled by the results of a firing, I always find it exhilarating. The glazes I use are applied by airbrush. This allows me to blend multiple glazes together seamlessly and to isolate specific colors to paint the form. I am always trying to push a little further tweaking my glaze formulas to give a little better surface, a little deeper color. My hope is that my ideas continue to come and to grow with my skill.