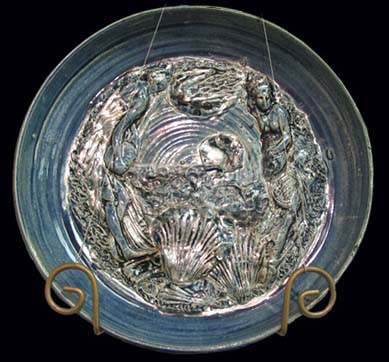 Seamist
Plate /Blue/Silver/Luster
Dimensions: 18" diameter
Made of hand thrown, paperclay, raku and lusterfired,
with sprigged design
I am a Sunday afternoon potter, whose love is working with the
complexities of clay, and I have recently found that luster work holds much appeal. Because the sprigging puts tension on the clay raku firing is often difficult as breakage is high. I am fascinated by glaze work, and largely create my own, even lusters. Luster work allows the beauty of some local reduction with the high color and intensity of low fired glazes.