Robert Yellin
Ode to Japanese Pottery, Sake Cups and Flasks
Review by Steven Goldate
Having known Robert Yellin through his website on Japanese ceramics e-yakimono.net for some time now, I eagerly awaited the arrival of his hot-off-the-press book Ode to Japanese Pottery. I was not disappointed. On opening the package, an enticing setting of sake cup and bottle peered at me through Japanese rice paper wrapping promising more treats inside.

There are various books on the Japanese tea ceremony and its associated ceramic utensils, but not many on ceramics made for storing and drinking that other equally, if not more popular Japanese brew, sake. Yellin's book redresses this void by taking us on a journey through the world of Japanese pottery via the ceramic sake utensil.
After moving to Japan in 1984, Yellin became a collector of sake cups and flasks. His first cup cost around $3, but as his appreciation of Japanese pottery grew, more expensive ones followed. In the process, Yellin became a serious collector and connoisseur of Japanese pottery in general and 'guinomi' (sake cups) and 'tokkuri' (sake flasks) in particular.

While the focus of this book is on sake cups and flasks, it is by no means limited to that topic. Its sixteen chapters range from Japanese cuisine and associated pottery to Zen and nature. Shino, Bizen, Tokoname and many other regional styles are covered with the help of entries on particularly noteworthy potters and high quality images illustrating their guinomi and tokkuri.
There are too many potters featured to mention all of them, but amongst them you will find many familiar names such as Suzuki Goro, Fujiwara Ken, Otani Shiro, Kanzaki Shiho and many others. Yellin also recognizes the contribution of foreign potters inspired by the Japanese aesthetic, with the inclusion of Americans Jeff Shapiro and Richard Bennett and Korean Chi Soon Taek (1912-1993). There are also chapters devoted to individual potters, notably Furutani Michio and Okuiso Eiroku.

Individual entries in this book are devoted to particular images of a cup or flask, analyzing their history and merits and saying a few words about the maker. Techniques are also covered, from 'neriage' (a Japanese marbling technique) to 'mentori' (giving shape by cutting and trimming).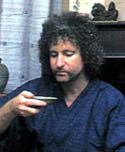 Yellin also speaks of his personal relationship to particular bowls, and describes how he has become 'acquainted' with certain potters by using their bowls, although never having physically met them. This book too, reveals something of Yellin's own personality. Be it through his descriptions or interpretations of yakimono, his musings on philosophy and spirituality in Japan and his own personal journey there, or his lament of a rapidly changing Japanese society, the author establishes an intimate relationship with the reader.
Actually, I don't know how Yellin manages to pack so much information into a book of this size. It reminds me of what an old school teacher of mine used to say about essays. Some have too much waffle and not many raisins. Ode to Japanese Pottery is all raisins!
Ode to Japanese Pottery. ISBN: 4-907731-05-1. More info. Images © Robert Yellin 2004.

More book reviews
More articles