Rimas VisGirda
Lithuanian American Ceramist

fter bisque firing, the image may be worked on with underglaze pencils, which enhances it's three dimensionality by adding a degree of volume to the drawing. At this stage the piece is high-fired to cone 10 - 13, depending on which clay is used. Now various areas are colored in using lusters. Most of VisGirda's works are left unglazed, allowing the often rough texture of the stoneware to add to the overall effect.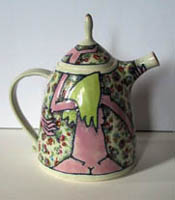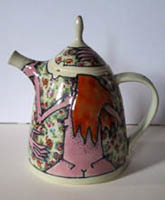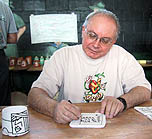 VisGirda is represented in the United States by Solomon Dubnick Gallery in Sacramento and Miller Gallery in New York. He also regularly shows at the Lithuanian Museum (just outside of Chicago).
Previous Page > Influences > 1