Crossroads
Traditions and Change - Seagrove International Ceramics Conference

The Seagrove International Ceramics Conference Crossroads will be held in Seagrove, North Carolina, USA from June 5-10, 2005 and A Celebration of the Seagrove Tradition from June 11-12, 2005.
Invited Guests include:
Jin Win Wei (China)
Marino Moretti (Italy)
Walter Ostrom (Canada)
Alan Caiger-Smith (United Kingdom)
Scott Barnim (Canada)
Longquan Ceramic Artists (China)
Esthela Dagua (Ecuador)
Miriam Vagas (Ecuador)
Joe Molinaro (United States)
Thancoupie (Australia)
Joe Bosco (Australia)
Dr. Louise Hamby (Australia)
Santa Kumar Prajapati (Nepal)
Laxmi Kumar Prajapati (Nepal)
Doug Casebeer (United States)
Dr. Terry Zug (United States)
Gerry Williams (United States)
Neville Assad-Salha (Lebanon/Australia)
Seagrove Area Potters (United States)
| | | | |
| --- | --- | --- | --- |
| | | | |
| Scott Barnim | Doug Casebeer | Prajapati Potters | Thancoupie |
The Conference is sponsored by:
Randolph Arts Guild
North Carolina Pottery Center
Seagrove Area Potters Association
Within a few miles of the village of Seagrove, is one of the largest groups of working potters in the United States. Over one hundred potters are continuing the centuries old tradition of turning and burning pots.
The Seagrove International Ceramics Conference is a major International Ceramics Conference for potters, ceramic artists, collectors, educators, students from around the world to spend a week in a historical ceramic area with a tradition of making pottery that extends over two hundred years. Demonstrations, participatory activities, lectures and presentations, kiln building and kiln firings, panel discussions, exhibitions, traditional craft exhibitions and demonstrations, visiting pottery studios and shops, music and entertainment and much more.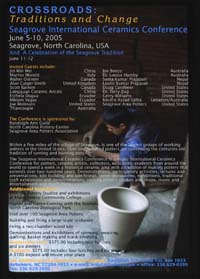 Additional Activities:
Visit the Pottery Studios and exhibitions
at Montgomery Community College
Dinner and Dance-Evening with the Animals,
North Carolina Zoological Park
Visit over 100 Seagrove Area Potters
Building and firing a large-scale sculpture
Firing a two chamber wood kiln
Demonstrations and exhibitions of spinning, Weaving,
quilting, basket making and blacksmithing
Conference cost: $375.00 Includes four lunches and six dinners
Students: $275.00 Includes four lunches and six dinners
A $100 deposit will insure your place
For Additional information Please Contact: Randolph Arts Guild P.O. Box 1033 Asheboro, NC 27204-1033 • e-mail: arts@asheboro.com • office: (+1) 336 629-0399 fax: (+1) 336 629-2892
Related Article: Ceramic Toxic Materials
More Articles