Text courtesy Saudi Aramco World.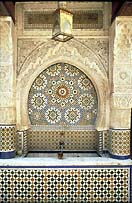 In the mid-19th century, Europe's artistic and fashionable circles were enthralled by a vogue for all that was Oriental. Visitors to London Galleries and Paris salon exhibitions became familiar with Middle Eastern desert and village life, with Arab, Persian and Turkish costume and decorative arts as they were recorded - or sometimes imagined - on canvas or in watercolor by European artist-travelers. De rigueur for Victorian ladies were the sumptuous, colorfully patterned paisley shawls, while loose, cool pajamas, as worn in the Islamic world, were adopted into the well-dressed European male's wardrobe. European homes featured the new "divan" associated with life à l'orientale - furniture that invited lounging and relaxation - and the Turkish bath was introduced to Paris.
The preferred jewelry motif was the so-called Algerian knot.
Against this backdrop, the acquisition of a single brilliantly colored Islamic tile prompted French ceramist Joseph-Théodore Deck to explore and revive Middle Eastern ceramic techniques in the creation of his own unique art.
Deck, the first of the artist-potters in what was to become a widespread revolution in European ceramics, was born in the Alsatian town of Guebwiller in 1823. He dreamed of becoming a sculptor, but his modest background dictated a more prosaic vocation. Deck apprenticed as a maker of ceramic stoves - large, room-warming structures of ironand plaster often elaborately covered with ceramic tiles - and traveled to Germany, Austria and Hungary to learn his trade. Moving to Paris in1847, he worked as a foreman in a ceramic stove factory.
But by 1856, Deck had established his own decorative faïence workshop in partnership with his brother Xavier and nephew Richard. Painters and sculptors frequented "Atelier Deck," which became a design laboratory promoting ceramics as an art form in the face of prevailing industrial practices.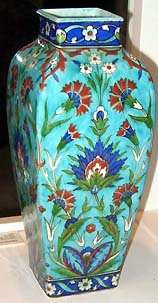 For Théodore Deck, the 1850's were an exciting decade of technical research and experimentation. Paradoxically, Deck looked back into history to develop new and improved ceramic techniques. He began by exploring lost Renaissance processes, making elaborate ceramics resembling those of Frances Saint-Porchaire factory, extravagantly decorated with inlaid strapwork patterns and incrustation. Next, tantalized by the secrets locked within the luminescent glaze of his one Islamic tile, Deck began to unravel the mysteries of centuries-old ceramics techniques of that culture. He wanted to know more.
Since the Middle Ages, Islamic ceramics had been admired in Europe as much for their luscious, rich glazes as for their abundant and colorful decoration (See Aramco World, March-April 1992). Early Islamic potters initially developed their skills from the techniques of their ancestors, but as long-distance trade and contacts flourished, along the Silk Roads and by other routes, they adopted many Chinese techniques to achieve a superior product, and added others of their own. Many Islamic inventions - tin-glazed earthenware, luster and underglaze painting - were in turn crucial to the development of ceramics of other cultures.
Deck discovered that the brilliant color in Islamic ceramics is due to a base coating of white alkaline slip containing tin oxide. The decoration, done in enamel colors, is covered with a transparent glaze, and produces glowing, translucent effects. After much trial and error, Deck succeeded in rivaling the vivid palette of colors characteristic of Islamic ceramics. He created "bleu de Deck," his famous deep-turquoise blue glaze, using potash, carbonate of soda and chalk.
As interested in decoration as in technique, Deck found prototypes for his "Persian" faïence (called "Rhodian" in the 19th century) in ceramics that were in fact Turkish, specifically from the famous Iznik manufactory in the 16th and 17th centuries. At the time, Iznik ceramics were celebrated throughout the Islamic world for the astonishing depth, brilliance and luminosity of their glazes and colors; they were often boldly decorated with floral motifs whose stylized forms resembled those found on Persian carpets. They recalled the Islamic love of gardens, with charming tendrils, leaves, blossoms and fruits -pomegranate, carnation and tulip - swaying gracefully across the surfaces of dishes, vases and tiles. Sprightly animals and highly decorative Arabic calligraphy also flickered across their lustrous surfaces, and Iznik ceramists formed beguiling arabesque patterns with flattened leaves, limbs and letters.
Deck sometimes copied directly from Iznik ceramics, but he also created variations, assimilating motifs from several examples into a single object. While Deck's designs are generally more symmetrical than those of his prototypes, it is nevertheless sometimes possible to identify the very pieces that inspired him.
Islamic source material for Deck to study was hard to come by in 19th-century France. A small but steadily increasing stream of hardy European adventurers braved the perils of contemporary travel to experience the wonders of Turkey, Persia and North Africa. Back home, their exotic souvenirs perforce became touchstones of Islamic culture and sparked the European imagination.
One of the first artist-travelers to the region, Jules-Robert Auguste (1789-1850), returned to Paris with curios and artifacts of every description, selected from dozens of bazaars and merchants. At his frequent "at homes," Auguste displayed costumes, carpets, weapons, ceramics and glass in a dazzling Thousand-and-One-Nights setting to his spellbound artist friends, including Théodore Géricault, painter of "The Raft of the Medusa" - Horace Vernet, who was to produce the battle paintings at Versailles; and Eugène Delacroix, greatest of the French romantic painters. Auguste's souvenirs often found their way into his guests' paintings as props, and Orientalist subjects - on the increase in the annual paintings salons - now took on an air of verisimilitude, at least as far as artifacts were concerned.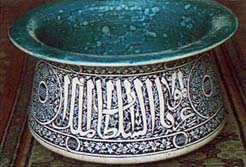 Serious collections of Islamic artifacts began to be assembled in Europe. Nineteenth-century museums took a didactic approach to acquisitions, and avidly collected study materials for public instruction as well as to provide inspirational models to further the applied arts. The extensive medieval and Renaissance collections of Paris's Musée de Thermes - Hôtel de Cluny, opened to the public in 1844, provided Deck with Islamic models to emulate, and he recorded that its collection contained 132 examples of "Persian" ceramics.
Some Islamic artifacts had also filtered into France during the Crusades, and fragile survivors, along with a handful of fine examples of ceramics, metalwork and glass acquired over the years, had found their way into the French royal collections. These collections formed the basis of those of the Louvre Museum, another resource for 19th-century craftsmen.
Deck most frequently referred to the collection of the National Porcelain Museum at Sèvres, outside Paris. Open to the public since 1824, this specialized museum continually added to its large and important study collection of ceramics from around the world. Underscoring its avowed mission to provide models for industry, the museum complex even featured an applied arts school. It was here that lustrous Islamic glazes gave up their secrets and the sparkling enamel colors of exquisitely depicted Middle Eastern flora and fauna seduced Joseph-Théodore Deck.
In the same pedagogical spirit as the museums, private collectors lent objects to public exhibitions. On several occasions throughout the 1860's, privately-owned Islamic works of art were displayed through the auspices of the newly formed (1864) and commercially-minded Union Centrale des Beaux-Arts Appliqués à l'Ilndustrie, the forerunner of Paris's Musée des Arts-Decoratifs. Important collectors of the period included Baron Alphonse de Rothschild and Charles Schefer, Emperor Napoleon III's Arabic interpreter.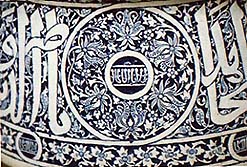 Ironically, source material was also supplied by Deck's competition. Ceramist Eugène-Victor Collinot and his collaborator Adalbert de Beaumont, who had first encouraged Deck to look to Islamic prototypes, joined Deck in his early exploration of Islamic ceramics. In 1859, Collinot and Beaumont, themselves collectors of Islamic artifacts, published Recueil de dessins pour l'art et l'industrie (A Collection of Designs for Art and Industry), which contained detailed illustrations of Islamic ceramics and glass seen in their travels.
This influential design book revealed the arts of the Islamic world as a new source of inspiration to a receptive and enthusiastic audience of French artists and craftsmen. In its pages Deck found a 13th-century enamel and gilt glass mosque lamp from Cairo - part of the Rothschild collection - lavishly decorated with ornament and calligraphy. Deck translated the bulbous lamp with its wide-flaring neck into a pair of ceramic vases, replacing its calligraphy with more floral ornament. Likewise, he converted a medieval Syrian glass vase illustrated in the Recueil into a ceramic vase alive with flora and fauna of Persian inspiration. Glazed in white, black, red and cobalt, the vase's swelling, attenuated form is enlivened with acanthus, tiny gazelles and bold interlaced arabesque patterns.
In 1863, Collinot and Beaumont founded their own faïence factory specializing in Islamic-inspired wares. Located in the Bois de Boulogne, the factory caused a sensation with its decoration of blue and white Islamic dishes. The competition with Deck was truly on.
Nineteenth-century industrial exhibitions invited such competition. Heavily attended and the subject of intensive commentary and discussion they were the manifestation of an era of unprecedented official sponsorship of the applied arts. Held almost annually, they provided a forum for exhibitors to present to the public their best and newest, achievments in the name of progress. His experiments having come to fruition, Deck presented his first "Persian" faïence at Paris's 1861 Exposition des Produits de l'Industrie. His efforts were rewarded with a silver medal and much critical praise for his "fine quality" and "intensity of tones."
Deck also met with success the following year when he introduced metallic luster glazes, derived from Hispano-Moresque, or Andalusian, wares, at London's 1862 International Exhibition. While these vitreous, iridescent glazes were first popularized in Syria and Persia, they became inextricably linked with Spanish ceramic centers such as Malaga and Valencia. Arabic inscriptions and floral and figural motifs predominated within an elaborate overall design scheme. Deck's prize-winning example was a monumental vase copied from a model found in the Alhambra, the splendid 14th- and 15th-century Moorish palace in Granada (See Aramco World, May-June 1967). The vase's ornate designs were provided by Baron Davillier, a renowned scholar of Hispano-Moresque ware and a frequent advisor both to Deck and to the National Porcelain Museum at Sèvres.
The London exhibition brought Deck important official recognition: The recently established South Kensington Museum (now the Victoria and Albert Museum), an active patron of the applied arts, bought three of Deck's works from the exhibition. Here also, Deck's brilliant colors caused widespread comment, especially the "bleu de Deck." Its "dazzling hues seemed like electric sparks," according to one source.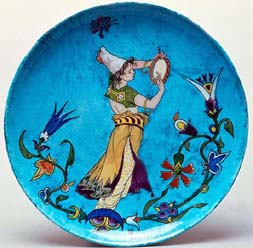 Then in 1863, the first year of their factory's operation, Collinot and Beaumont exhibited their own "Persian faïence" at the Union Centrale, where their work, like Deck's, was awarded a first-class medal. Both factories competed again at the Paris 1867 Exposition Universelle and were awarded silver medals. While critical comparison was inevitable, it was uncharitable of Deck to snipe that Collinot's "Persian wares were improperly and unauthentically decorated."
Islamic art also provided contemporary French glass artists with a new source of inspiration. Philippe-Joseph Brocard began, his career as France's first art glass-maker by reviving the tedious process used to make Islamic enameled and gilded glass of the 13th and 14th centuries. Brocard, who first exhibited his work at the Paris 1867 Exposition Universelle, developed a cloisonné technique, outlining his designs in thick cells of gold or enamel paint. He shared many of Deck's sources-plates from Collinot and Beaumont's Recueil, Egyptian and Syrian mosque lamps and beakers in the Cluny Museum, and works of art that were part of various private collections.
Like Deck, too, Brocard's design repertory consisted largely of floral and geometric ornament and Arabic calligraphy. But he could not read Arabic and his calligraphy, understandably, often contained errors. It thus had only a decorative function on his glassware, lacking the intellectual or didactic element that Arabic calligraphy usually contributes to art objects of Middle Eastern provenance.
Brocard in turn introduced Emile Gallé to the enameled glass of Islam. Better known today for his turn-of-the-century art-nouveau glass, Gallé's early work of about 1880 frequently borrowed motifs from Indo-Persian miniatures and Islamic calligraphy. But instead of arduously trying to copy Arabic inscriptions which he too could not read, Gallé simply invented a fantastic Islamicate French-language alphabet with which he inscribed mottoes on his glass in bright colors.
Deck explored other cultures later in his career. In 1884, he exhibited flambé glazes in imitation of Chinese sang de boeuf. Deck's celadon glaze, used over designs incised in the body of the ceramic, also referred to Chinese origins, as did his many experiments with porcelain and with decorative craquelure effects. The asymmetrical designs and motifs of Japanese ceramics that were exhibited at Paris's 1878 Exposition Universelle were promptly reflected in Deck's offerings in the 1880 Union Centrale exhibition. No less exotic, Venice's glittering Byzantine mosaics inspired Deck to develop an underglaze gold to be used for background.
Because of his range of technical innovations and accomplishments, Deck was made art director of the Sèvres manufactory in 1887, the first ceramist to assume this prestigious post. In the same year, he published an exhaustive treatise called La Faïence. Half-historical, half-technical, it testified to Deck's debt to the potters of Islam. Deck continued to develop and improve the ceramic art at Sèvres, while his brother Xavier was charged with running the Paris workshop. After his untimely death only four years later, Deck was buried in Montparnasse Cemetery, beneath a tomb Xavier had appropriately decorated with floral ornament in colored faïence.
Deck's influence spread through the many artists and sculptors who worked in his studio or in collaboration with him. In the 1878 exposition, Deck exhibited wall plates with designs by, among others, ceramist Albert Anker, painter Henri Joseph Harpignies and caricaturist and lithographer Ferdinand Bracquemond, who popularized the Japonisme movement in French art. Even celebrated society painter Paul César Helleu once designed plates for the workshop.
But it was Deck himself who began the ceramic revolution. He was the first to explore historical styles in the name of progress in ceramics - a process that continues today (See Aramco World, May-June 1990). Increasingly, a concern for the values and techniques of handicraft began to make itself felt in all the applied arts in his day, and that concern also continues to have repercussions in our own time. At the height of the industrial revolution, Deck returned to the artisanal tradition, laying the ground for the widespread art pottery movement of the next two generations. By the 1890's, that movement was widespread in Europe and the United States, and it had become commonplace to look to non-European prototypes for inspiration in technique and decoration. With Deck's vindication of the value of historical survivals, his work marked the beginning of a new era in faïence.

Frederica Todd Harlow is an art historian who writes and lectures on revival styles in the decorative arts.