An Introduction to Danish Ceramics and Potters VI
Potteries and Potters around Horsens (Eastcoast of Jutland)

Niels Peter Nielsen (1888-1968, Potter): Pottery in Egebjerg by Horsens (1909-1918); The ceramic factory D A N I C O, Horsens (1919-1929); Dagnaes Pottery, Dagnases by Horsens (1930-1946) and in Torsted by Horsens (from 1947).
After he finished his education as a potter at Annashaab, Niels Peter Nielsen in 1909 established his own pottery in Egebjerg outside Horsens. At the pottery he produced, pots, bowls, Pickle Pots, Plates, vases and sculptures. The things from Egebjerg are marked with a presses "N.P.NIELSEN, EGEBIERG" or an "NP"(written together).
Later Nielsen got acquainted to the storekeeper Corfitzen from Horsens and they decided to start a ceramic factory, with Nielsen as president and Corfitzen as financier. The factory was named DANICO (DAnish, NIelsen and Corfitsen) and started production in 1919.
They produced things for decoration, bowls, vases, centerpieces and
flowerpots.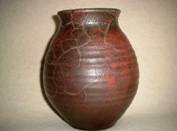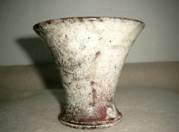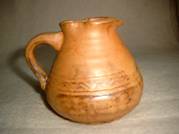 The two potters Karl Hansen and Frederik Jørgensen, who both came from Herman A. Kähler, were employed and they stamped the design, decoration and production. They decorated with horn painting and flower ornamentation in Skønvirke style, whish is the Danish version of the French art noveau (1890-1910) which came to Denmark a bit later.
Among the employees was also potter Leon Dissing (1897-1986) who later had his own pottery in Horsens.
With the common decoration in blue and green on a white/yellow background, it can be difficult to see the difference between things from Kähler and Danico. Only the pressmark "HAK" shows if it's "a Kähler". Kähler items were always marked.
One can understand that they found that likeness rather tiresome at
Kählers.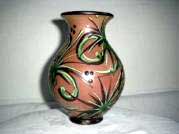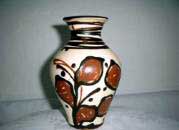 The two potters from Kähler are no doubt very skilled, the horn painting
was a difficult technique. A hollowed cow horn, with a goose quill, was filled up with the slip. The potter then painted with the cow horn by dosing the slip through the goose quill, using it as a pen.
The artistic leader was Eiler Løndal (1887-1971). Maybe he didn't get the possibilities and the free rein that his talent needed and required, because already in 1922 he quit. It is said that he destroyed all his forms before leaving, so he must have been rather displeased.
A good part of the production were exported via agents also in USA.
The things from Danico are often, but not always stamped with a pressed DANICO. They are always marked with a number. The guideline is that the numbers from 1 to 499 and from 800 and up are from DANICO while the numbers from 500 to 799 are from Annashaab. Sometimes the things are only marked with a number. As Einer Løndal later also marked the things he produced in Aarhus also only with a number it can be rather difficult to know the difference.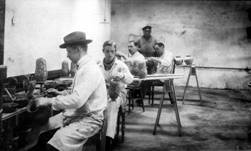 Eiler Løndal (foreground) and Frederik Jørgensen (sitting towards back) at Danico.
Part 1 > Jens Michael Andersen
Part 2 > L.Hjorts Terracotta Factory, Roenne, Bornholm
Part 3 > Soeholm, Roenne on Bornholm
Part 4 > P. Ipsens Enke, Copenhagen
Part 5 > Kongstrands Pottery, Esberg
Part 6 > Potteries and Potters around Horsens
Danish Ceramics VII - The Turn of the Century
Article kindly supplied by Tove Jespersen Klitgaarden Antique & Ceramics, Denmark. www.Klitgaarden.net e-mail: Klitgaarden@tdcadsl.dk