A.I.R. Vallauris
Artists in Residence

Located in the heart of the old town of Vallauris, the non-profit Association A.I.R. Vallauris (Artists in Residence) welcomes international artists from all horizons to meet and collaborate with local artists and to research and create new work in an artistic laboratory created specifically for them. The Association has three primary objectives :
The hosting of resident artists
The support of contemporary creation
The organization of cultural events
Created in October 2001, the Association A.I.R. Vallauris, since April 2002, welcomes two artists at a given time for a period of two months in its residence and studio available to the artists.


The creators using different mediums (sculptors, ceramists, filmmakers, painters, photographers, etc.) benefit from an equipped studio, independent furnished apartments and a gallery where their works are presented at the end of the residency period.
The quality of the artistic creation is one of the major concerns or the program; the selection committee evaluates applicants based on their artistic experience, merit and project proposal. Since April 2002, 16 creators of different nationalities have taken part in the program. 12 artists are programmed for the 2004 season.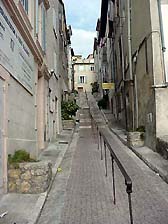 The Association encourages and facilitates interaction between local artists and international artists. Workshops, conferences, demonstrations exhibitions are organized with the resident artists. These event are open to the public. Through partnerships with the local School of Fine Arts, the local government, and international organizations a sensibility of exchange between the public, artists, and the international community is realized.
> A.I.R. Vallauris Workshops for 2004
Residencies of the World
More Articles