The Life of Josiah Wedgwood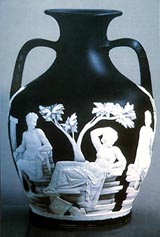 Josiah Wedgwood was born in Burslem, Staffordshire where potters had been situated for a long time. His father was a potter himself and at the age of fourteen Wedgwood was apprenticed to his brother Thomas, who was also a potter. Wedgwood's heirs Josiah Wedgwood & Sons, still run the business today.
Being a diligent worker and pupil Josiah soon became skilled at all aspects of the trade. He soon recognized the potential market that existed for ceramics in England, due to the backwardness of techniques and ideas at the time.
He was a perfecter and also innovator of a whole range of new techniques in the second half of the 18th century. He discarded traditional Staffordshire forms and began incorporating elements of 'higher' Rococo and Neoclassical art into his work, creating articles that were to become fashionable amongst the 'high society' of England, which up to then had traditionally mainly used silver or other metal utensils on their dinner tables. Wedgwood was also remarkable for his business capabilities, always trying to get as much publicity for his products as possible. He was the first potter to print catalogues with illustrations of his wares, which were themselves always of the best quality.
Wedgwood's first great success was the perfection of a cream-coloured crockery which had been produced in Staffordshire from the early 18th century onwards. The chemical composition was actually that of a stoneware clay, but it was fired to an earthenware temperature and lead-glazed, giving it it's characteristic creamy yellow color. Wedgwood was able to eliminate the problem of crazing (he appearance of small cracks in the glaze) which had been a great problem in English pottery up to that time He also perfected a green glaze which appeared on popular fruit and vegetable teapots, such as the well-known 'cauliflower' tea- pot. The taste for such items waned by the mid 1760's and the more simple 'cream-coloured' ware became more popular, especially after Wedgwood was conferred royal patronage by Queen Charlotte of England, in merit of this ware, which was from then on called 'Queen's Ware'. This 'Queen's Ware' became so popular and well-known that in 1767 Wedgwood wrote: "The demand for this said cream color., alias Queen's Ware, alias Ivory still increases. It is really amazing how rapidly the use of it has spread almost over the whole globe and how universally it is liked."
Being named 'Potter to Her Majesty' led to a huge amount of publicity for Wedgwood. This association with the Queen proved to be very fruitful and Wedgwood didn't hesitate to capitalize on the fact by using the term 'Queen's Ware' as much as possible.
In 1770 he received an order from the Empress Catherine the Great of Russia for a 'Queen's Ware' dinner service for two dozen people and in 1773 a further order for a dinner and dessert service for fifty people. This set was completed in 1774 and consisted of over 950 pieces which were decorated with scenes from the English countryside. Wedgwood must have known that an order such as this one would not be very profitable due to the high costs of production (each plate was decorated with an individual scene as a 'one-off' piece) but he was not one to let such a publicity opportunity slip through his hands. In her book 'The Story of Wedgwood' Alison Kelly states that "No expense was spared, and the financial outlay was extremely small. Catherine the Great's archives show that she paid Wedgwood 16,406 rubles and 43 kopeks, or a little over 2,!00 pounds, while his expenses have been calculated as being about 2,612 pounds. However as an advertisement the service amply justified itself. It was put on display in Josiah's Greek Street showrooms, was visited by the nobility and also Queen Charlotte, and became the fashionable topic of conversation."
Next Page > Wedgwood the Innovator > 2